Oil Declines Ahead of Intra-OPEC Clash Over Pumping More
(Bloomberg) -- Oil fell for a fourth consecutive week as Saudi Arabia and Russia prepared for a clash with allied crude producers over whether to raise production.
Crude futures slumped 2.7 percent in New York on Friday, the steepest decline since May 25. Saudi and Russian officials in favor of relaxing historic supply limits will meet resistance from Iran, Iraq and Venezuela at an OPEC-led meeting next week. Russian Energy Minister Alexander Novak has advocated lifting the caps as soon as July 1.
"The Russians are now pushing for a bigger increase than what we expected earlier, and OPEC is divided now," said John Kilduff, a partner at Again Capital LLC. "The Saudis are trying to moderate what's going on, but it will be a volatile week going into the meeting with tons of headline risk."
The Russians are suggesting the 24-nation coalition that began cutting output about 18 months ago lift daily production by 1.5 million barrels, the same amount the International Energy Agency expects to disappear as economic and political crises seize Venezuela and Iran. Saudi Arabia has been discussing different scenarios that would raise production 500,000 and 1 million barrels a day, according to people familiar with the matter.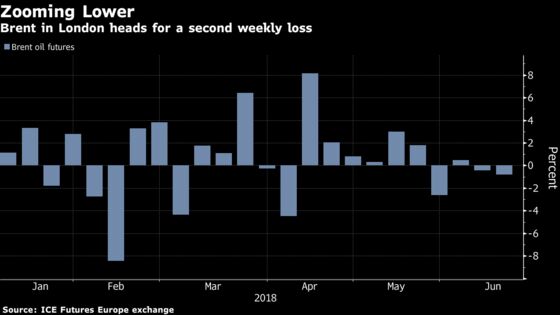 "Raising production seems to be certain at OPEC's meeting, the question is by how much," said Carsten Fritsch, an analyst at Commerzbank AG in Frankfurt.
Traders were trying to digest the impacts of the U.S. and China both issuing tariffs on goods. The U.S. formally announced a list of Chinese products, implementing 25 percent charges on $50 billion of Chinese imports. Meanwhile, China was also imposing an additional 25 percent tariff on about $50 billion of U.S. imports.
West Texas Intermediate crude for July delivery fell $1.83 to settle at $65.06 a barrel on the New York Mercantile Exchange while Brent futures for August settlement fell $2.50 to $73.44 on the London-based ICE Futures Europe exchange. The global benchmark traded at an $8.59 premium to West Texas Intermediate for the same month.
Energy was the worst performing sector in the S&P 500 today, with the energy index down 2.1 percent, the most since May 25.
Oil has been whipsawed this month by uncertainty over whether major producers will ease their cuts. With prices last month recovering to 2014 levels and global inventories shrinking, the IEA has warned that demand growth could slow. Reimposed sanctions on Iran by the U.S. and output declines from Venezuela could tighten the market further.
See also: OPEC+ to Restore 1.2m bbl Oil to Market by End of 2019: Blanch
In the U.S., the decline in nationwide crude stockpiles helped buoy WTI prices this week. The Energy Information Administration said inventories fell 4.14 million barrels last week, more than the estimate in a Bloomberg survey.
OPEC's shipments will rise by 1.13 million barrels a day in the four weeks to June 30, compared with the period to June 2, Oil Movements said in a weekly report.
Iran's oil exports fell sharply in first two weeks of June, according to ship-tracking data compiled by Bloomberg.
Russia has capacity to recover its output cuts within six months, Credit Suisse says.