Merrill Liked Emerging-Market Banks Before Crash. Loves Them Now
(Bloomberg) -- The slump in emerging-market banking stocks, down 17 percent since January, presents a buying opportunity, according to Bank of America Merrill Lynch.
"We liked these banks before the significant drop and with a 5 percent rise in the U.S. dollar the only change in the last two months, we find them even more attractive," strategists including Ritesh Samadhiya, they wrote in a note Friday. "Based on the price of their deposit franchise, credit growth and credit penetration, Brazil, Indonesian, Indian, Polish and Mexican banks look good to us."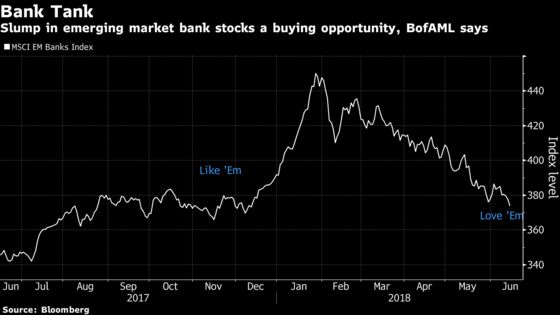 A combination of a stronger dollar, rising U.S. interest rates and a flight from assets in Turkey, Brazil and Argentina has pummeled emerging-market securities, including bank stocks. The MSCI EM Banks Index has slid 17 percent from this year's peak reached at the end of January.
Turkish lenders are down 45 percent from a year-to-date peak, Brazilian banks 38 percent and Russian lenders 30 percent in dollar terms, according to BofAML. The pullbacks are a chance to snap up shares, it said.
"We think we are in the middle of a long bull market in Asia and EMs," the strategists wrote. "Barring Argentina and Turkey, and maybe the Philippines, financial vulnerability is low," they said.
Indian lenders are particularly attractive now after BofAML's investor sentiment index registered a "panic" reading, according to the strategists.
"We strongly recommend picking up some banks there to take advantage of this dislocation," they wrote.