A Bidding War for Fox Has Comcast Debt Investors Seeing Red
(Bloomberg) -- Comcast Corp. seems to have convinced credit raters that its bid for 21st Century Fox Inc.'s entertainment assets won't harm its investment-grade ratings. But if it ends up in a bidding war with Walt Disney Co., all bets may be off.
Comcast's $65 billion cash offer, along with another for a stake in the U.K. pay TV provider Sky Plc, could very well push the cable-TV provider's debt load to $170 billion, according to Moody's Investors Service. Both Moody's and its bigger rival, S&P Global Ratings, say that might prompt them to drop Comcast's rating to the lowest tier of investment grade, which would result in a painful increase in its borrowing costs.
And the prospect that Disney will raise the $52.4 billion bid that it already has on the Fox assets, forcing Comcast to boost its offer and borrow even more, is keeping investors on edge. The company's bonds have been dropping as they weigh the cost of Comcast's expansion plans.
"If the bidding escalates, which is a very likely scenario, the wild card is how much incremental debt Comcast will take on," said Jesse Fogarty, a senior portfolio manager at Insight Investment. "My gut is telling me Comcast really, really wants this and is willing to pay quite a bit for it."
The Fox pursuit comes on the heels of AT&T Inc.'s victory over the U.S. Justice Department in its antitrust battle to take over Time Warner Inc., which gave Comcast the green light to make its move and may spur a wave of further media consolidation.
When Comcast first expressed interest in acquiring Fox's assets, S&P forecast a downgrade of one or two notches, which would put the A- rated company as close to two levels from junk. Comcast's ratings have been on negative watch from S&P since February following its initial $41 billion bid for Sky.
"Clearly, if things get out of hand, it could be more than that," S&P analyst Naveen Sarma said in an interview Thursday, referring to a potential bidding war between Disney and Fox.
Burbank, California-based Disney didn't respond to a request for comment.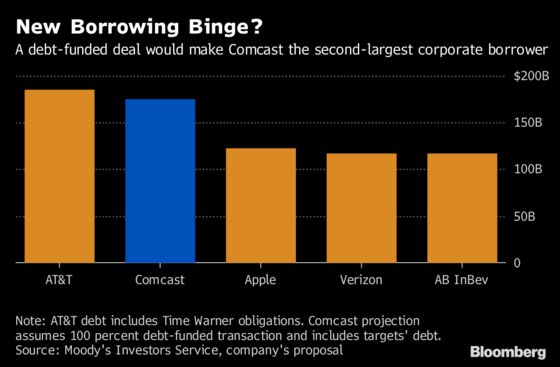 On a call with investors Wednesday, Comcast Chief Executive Officer Brian Roberts stressed that an increase in leverage would only be "temporary" and that the company would be able to quickly pay down a slug of the debt as it reduced overlap and cut costs after the acquisition.
The deal would push Comcast's net debt to more than four times a key earnings measure known as Ebitda (earnings before interest, taxes, depreciation and amortization), Chief Financial Officer Michael Cavanagh said on the call. The company is committed to getting the ratio back down to where it currently is, he said, or around 2.2 times.
"We expect to maintain our solid investment-grade ratings post closing, and are committed to returning to the area consistent with our current rating within a reasonable period of time," Cavanagh said on the call. "I will say our primary focus in the years following the transaction will be to de-lever the balance sheet."
Some investors are saying that will be easier said than done, especially if Comcast needs to boost its bid. Another problem is the company's plan to buy back at least $5 billion of stock this year and pay a dividend, which a representative reiterated on Thursday.
Philadelphia-based Comcast increased its dividend by 21 percent last year, its 10th consecutive annual increase. It paid out $738 million of dividends in the three months ended March 31. Dividends and share repurchases totaled $7.9 billion in 2017.
"I would love for them to cut back the return to shareholders, but I'm not sure we will see that commitment in the near term," said Gene Tannuzzo, a money manager at Columbia Threadneedle Investments. "The rating agencies may require them to cut that back a bit in order to maintain IG ratings."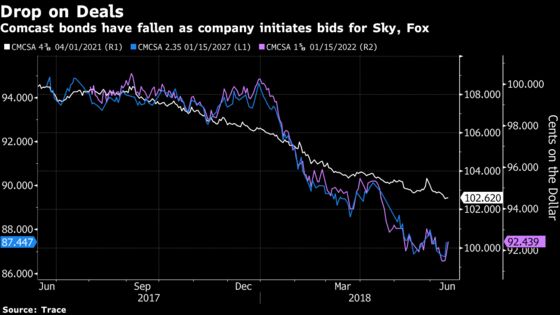 That idea has been floated by Moody's analyst Neil Begley, who said in a report Thursday that achieving leverage targets consistent with Comcast's current rating would be "challenging" without some asset sales or a dividend cut. Comcast had about $66 billion of debt outstanding as of March 31. If it were to boost its debt load to the $170 billion that Begley is estimating, it would become the largest non-financial borrower after AT&T.
"No one's forcing them to buy back stock or suspend their dividend," Begley, who rates Comcast A3, also four steps above speculative-grade, with a negative outlook, said in an interview. "All of these are different measurements of a commitment to a rating and a level of credibility."
That's not an issue for some investors, who applaud Comcast for maintaining and improving its investment-grade status for almost two decades. Its net leverage has stayed below three times Ebitda every year since 2004, according to data compiled by Bloomberg.
"These guys worked really hard for a long time to have a pretty strong credit quality and we don't think it's something they'd jeopardize long term," said Dave Brown, head of global investment-grade credit at Neuberger Berman. "It's something they'd want to maintain, one way or another."
That could include asset sales or reducing its dividend, Brown said. But assuming that Comcast doesn't sell any major assets and maintains its dividend and share repurchases, it will take three to four years to deleverage back to current levels, Moody's Begley said.
"There's a good chance for one-notch downgrade, and we left the door open for two notches," Begley said, referring to Comcast's current Fox offer.