U.S. Producer Prices Climb More Than Forecast on Fuel Costs
(Bloomberg) -- U.S. producer prices rose more than forecast in May as the cost of fuels surged by the most in three years, a Labor Department report showed Wednesday.
Highlights of Producer Prices (May)
Producer-price index jumped 0.5% m/m (est. 0.3%) after 0.1% gain the previous month
PPI increased 3.1% y/y (est. 2.8%), most since January 2012, after 2.6% y/y gain in April
Excluding food and energy, PPI rose 0.3% m/m (est. 0.2%) and was up 2.4% y/y (est. 2.3% gain)
PPI excluding food, energy, and trade services, a measure some economists prefer because it strips out the most volatile components, rose 2.6% y/y
The report shows that prices received by producers are picking up in response to both sturdy domestic demand and U.S.-imposed tariffs on steel and aluminum. It followed figures on Tuesday that showed consumer prices accelerating in the 12 months through May by the most in more than six years.
The cost of steel mill products climbed 4.3 percent in May, the biggest advance since February 2011, the report showed.
In March, the Trump administration imposed 25 percent tariffs on steel imports and 10 percent on aluminum. The government expanded those on June 1 by removing temporary country exemptions for the European Union, Canada and Mexico.
Over 80 percent of the broad-based increase in goods prices last month was due to higher energy costs. The cost of gasoline jumped 9.8 percent, jet fuel was up almost 16 percent (most in two years) and diesel moved up 6.5 percent.
Some firms have also cited the continuing transportation bottlenecks and lack of truck drivers, which has forced them to pay more to get goods delivered on time.
The PPI offers a view of input costs businesses face and surfaces as Federal Reserve policy makers wrap up their two-day meeting later today. The Fed is forecast to raise their target rate for overnight bank lending by a quarter of a percentage point.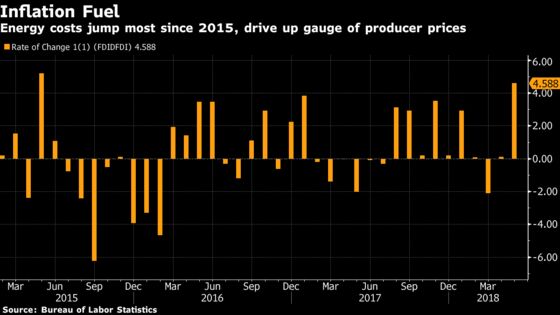 Excluding the volatile categories of food, energy, and trade services, producer prices rose 0.1 percent for a second month
Energy prices increased 4.6 percent from the prior month; food costs ticked up 0.1 percent in May
Final demand trade services prices rose 0.9 percent, while transportation and warehousing costs climbed 0.7 percent
PPI measures prices received by producers for U.S.-made goods, services and construction