Thyssenkrupp, Tata Are Said to Discuss Changing Steel Terms
(Bloomberg) -- Thyssenkrupp AG and Tata Steel Ltd. are discussing changing the terms of their steel joint venture in a way that could give Thyssenkrupp a bigger share of earnings, according to people familiar with the matter.
While nothing has been decided yet, one possibility being considered is to increase Thyssenkrupp's equity stake in the joint venture and keep the voting rights at a 50-50 split, said the people, who asked not to be identified because the talks are private. Thyssenkrupp is pushing for changes to the deal after profits plunged at Tata's European steel business, said the people.
The possible changes follow weeks of mounting pressure on Thyssenkrupp's Chief Executive Officer Heinrich Hiesinger by activist shareholders and labor representatives to get a better deal. When the joint venture was announced in September, both companies agreed to an equal split.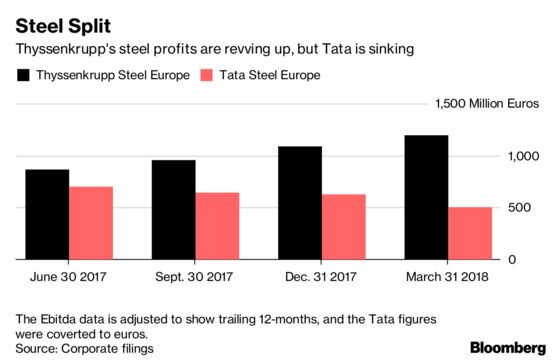 Tata Steel declined to comment when contacted by Bloomberg News. A spokesman for Thyssenkrupp said the company will stick to its plan of having a final decision on the joint venture by the end of June.
Elliott Management Corp. last week wrote to Hiesinger, who has pledged his future on achieving a deal with Tata, warning the initial deal would represent a shift of about 1.9 billion euros ($2.2 billion) from Thyssenkrupp. Cevian, the second-largest shareholder, has calculated a gap of up to 2.5 billion euros.
Elliott suggested that the difference could be made up with a cash payment from Tata to Thyssenkrupp. Alternatively, Thyssenkrupp could own 82 percent in the joint venture or Tata could reduce the debt portion, Elliott said.