Stryker Says It's Not in Merger Talks With Boston Scientific
(Bloomberg) -- Stryker Corp. said it isn't in talks with medical-device giant Boston Scientific Corp. about a potential acquisition, responding to a report that it had sought a deal.
The Wall Street Journal reported two days ago that Stryker had approached Boston Scientific about a potential merger, sending the target company's shares soaring.
"Stryker is not in discussions with Boston Scientific Corporation regarding a potential acquisition," the Kalamazoo, Michigan-based company said in a regulatory filing Wednesday.
Boston Scientific declined to comment on Wednesday. Its shares fell 4.7 percent to $32.24 at 9:35 a.m. in New York.
A deal between the two companies would have continued a recent wave of consolidation among makers of blood-glucose monitors, stents, and other types of widely used medical equipment. Hospitals and doctors are facing demands from health insurers to bring down prices, pushing their suppliers to combine and offer packaged sales of devices ranging from heart devices to orthopedics and diagnostics kits.
Adding Boston Scientific, best-known for heart devices such as pacemakers and stents, would have almost doubled the size of Stryker, based on sales. Stryker manufactures orthopedic products such as artificial hips and knees.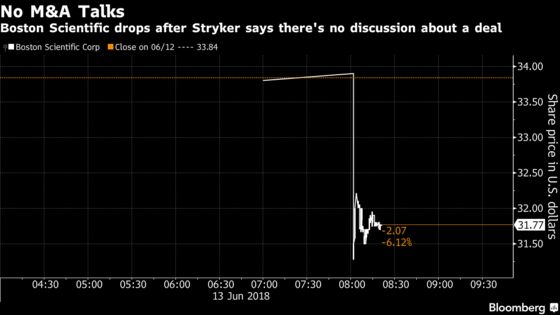 Stryker jumped 4.8 percent to $170.42.
Several of the biggest medical-device makers have executed large acquisitions in the past three years.
Abbott Laboratories last year bought St. Jude Medical, which makes heart devices, for about $25 billion, then months later completed a takeover of medical testing and diagnostics supplier Alere for about $5 billion. Another big purchase in 2017 was Becton, Dickinson & Co.'s $24 billion acquisition of C.R. Bard Inc., combining two of the world's biggest health-care suppliers. Medtronic Plc bought Covidien, which makes surgical products, for about $46 billion in 2015.