Siemens Said to Mull Sale of Flagship Gas Turbine Business
(Bloomberg) -- Siemens AG is considering strategic options including a potential sale of its struggling business that makes large gas turbines for power plants, according to people familiar with the matter.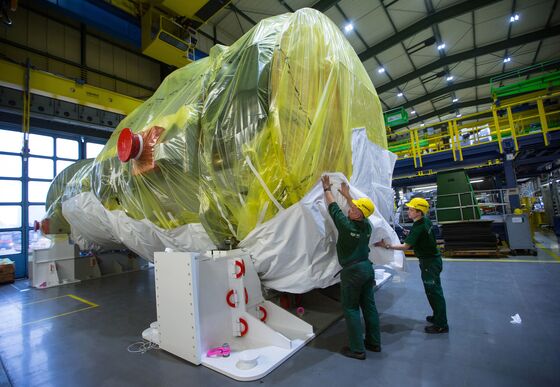 The German engineering company is looking at all possibilities, such as a combination with a rival, for what was once a flagship operation within the power and gas division, said the people, who asked not to be identified because the discussions aren't public. They cautioned that no final decision has been made and the company could end up weathering a downturn and keeping the business.
A spokesperson for Siemens said the company doesn't comment on market speculation. It also doesn't break out earnings for the large gas turbine activity. Berenberg analyst Simon Toennessen put revenue this year at 5.5 billion euros ($6.5 billion) and said a sale would be the "best outcome for shareholders."
Siemens shares rose 2.7 percent to 118.96 euros at 4:29 p.m. in Frankfurt, giving a market value of 101.1 billion euros.
The deliberations come after Siemens unveiled a plan in November to cut 6,900 jobs at the power and gas division and close some factories. The unit, which produces giant turbines in Berlin, Charlottesville, Virginia and Finspong, Sweden, has suffered from a collapse in orders as the global energy industry shifts to renewable sources like wind and solar and away from large-scale power plants that run on fossil fuels. Finding a buyer may not be easy as competitors face similar issues.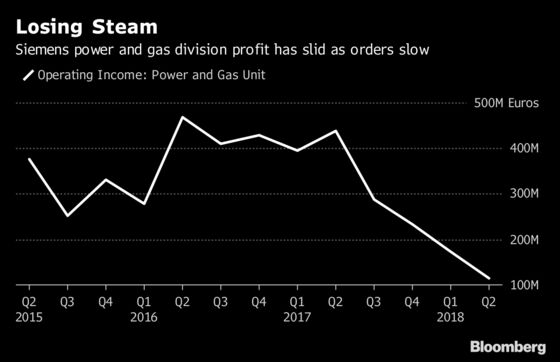 General Electric Co., a market leader alongside Siemens, is mired in a deep slump largely because of a deterioration in its own power-generation business. The Boston-based company recently announced 12,000 layoffs in the unit and said the market for gas turbines will remain "soft" for several years. GE is weighing bigger changes as well, including a possible breakup that could separate the power business into a standalone entity.
Siemens Chief Executive Officer Joe Kaeser has previously said in interviews that the turbine activity isn't part of the company's future "industrial core." That's a reversal for a business that once held pride of place, with Siemens regularly taking visiting dignitaries on tours of the Berlin factory.
The executive has merged or spun off other units deemed to be on the periphery, including combining the train business with French competitor Alstom SA, and hiving off the health-care division in an initial public offering.
"A sale of the gas turbine business would be consistent with previous divestments of assets in wind and rail," Morgan Stanley analyst Ben Uglow said in a note. The disposals would be "highly significant from a valuation standpoint."
Siemens Chief Financial Officer Ralf Thomas told investors in March that he expects the market for large gas turbines to fall to 100 units in 2018, 10 percent less than the company had previously expected, according to analyst notes about the event.
The outlook for the global turbine business has faded since 2014 when GE and Siemens sparred over the fate of Alstom. Siemens tried to scuttle GE's move on the French manufacturer's energy assets with an offer to carve them up in partnership with Japan's Mitsubishi Heavy Industries Ltd. and Hitachi Ltd.
Under the failed bid, Siemens offered 3.9 billion euros for Alstom's gas turbine operations while the Japanese companies would have paid 3.1 billion euros for stakes in the steam-turbine, power-grid and hydrobusinesses.
Now, after the tables have turned, the potential acquirers for Siemens's large turbine business, according to Berenberg's Toennessen, are Mitsubishi Heavy, which could raise antitrust concerns with GE, or Shanghai Electric Group Co.