Shale CEOs Lack Incentive to Find Your Holy Grail
(Bloomberg Opinion) -- Finding a fracker who can simultaneously gush more oil and money is shale's equivalent of the holy grail.
Yet there's hope. Surveying 57 North American exploration and production companies, Bob Brackett of Sanford C. Bernstein found that, in the first quarter, they collectively managed a trifecta of raising oil production by 10 percent while also earning positive net income and free cash flow. The last time all three of those metrics were in the green was eight years ago. In fact, the first quarters of 2018 and 2010 were the only times that happened in at least the past 33 quarters.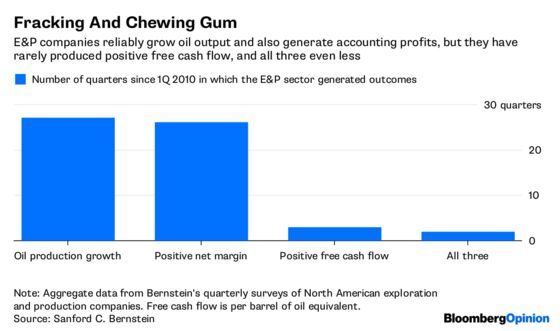 The apparent ease with which E&P companies boost barrels but struggle to do the same with free cash flow is an essential element of the recent oil crash. It's also why this industry has generated such poor returns for shareholders: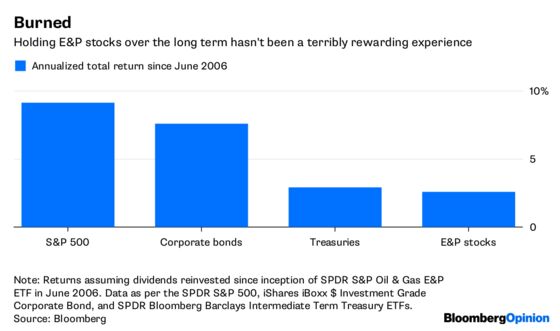 You can entertain various theories about why the industry has consistently prioritized growth over value, but any serious discussion has to begin with incentives. The other day, I wrote about how CEOs in the E&P sector have tended to get paid at least 100 percent of their target bonus even as only a handful of companies have generated positive returns that beat the market.
Besides the sizable mismatch of carrots and sticks there, the underlying objectives embedded in the compensation system play a critical role. And it should come as no surprise at this point that a big underlying objective at E&P firms is to find and produce more oil and gas.
Doug Terreson of Evercore ISI has just released his latest survey of pay practices at oil and gas companies. It begins with the startling fact that realized pay for the CEOs at 10 large E&P companies has added up to $2.1 billion over the past decade – coinciding with annualized total shareholder return of negative 0.1 percent. Terreson also identifies the carrot-and-stick problem at work, noting that only around 30 percent of CEO compensation, corresponding to performance-linked equity awards, is truly at risk.
Compounding that, the objectives are at odds with making money for investors (which is, after all, in the CEO's job description). Terreson measured how far different performance metrics correlate with total shareholder return, finding that, in general, growth factors display little relationship with boosting returns, especially relative to financial objectives. Guess which ones E&P companies tend to emphasize in setting annual bonuses, though?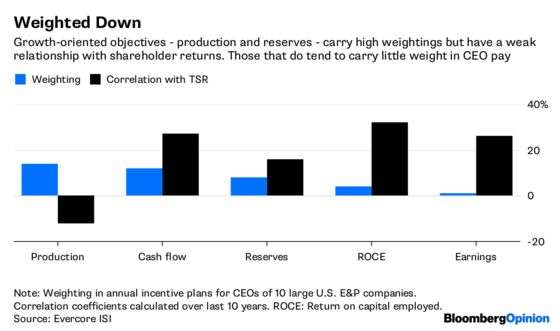 The other glaring issue relates to how long-term performance incentives – roughly a third of CEO compensation – get set. The metric is right, with total shareholder return taking an 85-percent weighting in setting them. The problem is how that metric is calculated; namely, on a relative basis. As Terreson puts it:
Unfortunately, when the industry is in value-destruction mode as it was during the past decade, executive compensation can remain high as long as management teams destroy less value than peers.
Some E&P companies have moved to reform pay practices over the past year. Compared with Evercore ISI's 2017 survey, EOG Resources Inc., Devon Energy Corp. and Anadarko Petroleum Corp. have shown the biggest improvement in terms of aligning CEO incentives with shareholder returns.
Even so, E&P incentives encouraging growth in production and reserves still outweigh those for earnings and return on capital by a factor of six-to-one. As long as CEOs are pushed toward expansion while being largely shielded from the negative consequences, sightings of those holy grails will remain a rarity.