Namibia Holds Key Rate at 2016 Low as Prices Stay in Check
(Bloomberg) -- Namibia's central bank left its benchmark rate unchanged for a fifth consecutive meeting as it seeks to safeguard the country's reserves and maintain its currency's peg with the South African rand.
The southwest African nation's Monetary Policy Committee maintained its key interest rate at 6.75 percent Wednesday, Governor Ipumbu Shiimi told reporters in the capital, Windhoek. That's the lowest since February 2016. Last month, its counterpart in South Africa kept its key gauge at 6.5 percent.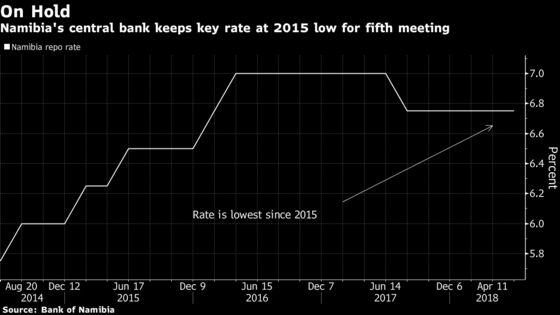 Inflation in the world's biggest producer of marine diamonds was 3.6 percent in April, near the lowest since 2015, as the economy struggles to expand. Gross domestic product either contracted or stayed flat in six of the seven quarters through the first three months of this year.
Despite a slump in the local economy in the first four months of the year, led by a slowdown the wholesale, retail-trade and fishing industries, "the domestic economy is expected to perform slightly better in 2018 compared to 2017," Shiimi said. The central bank will revise its growth forecast for this year in the coming days, he said, adding that price growth should remain "around 4 percent."
Namibia's international reserves fell to 28.1 billion Namibian dollars ($2.1 billion) by May 31, a decline of 2.6 billion Namibian dollars from the previous month. While that's "relatively low" compared with its regional peers, it can cover 4.7 months of imports, Shiimi said, adding that this is below the Southern African Development Community's preference for six months.