Hematology Conference Could Spur Some of Biotech's Outperformers
(Bloomberg) -- Bluebird Bio Inc. and Global Blood Therapeutics Inc. will be among biotechnology companies in the spotlight this week as doctors and investors flock to Stockholm for presentations at the Congress of European Hematology Association.
Bluebird is expected to release data from its pivotal trial of LentiGlobin in patients with beta-thalassemia and updates on an earlier study of the therapy in patients with severe sickle cell disease. Competitor Global Blood will report updated data on its sickle cell treatment in patients ages 12 to 17, which analysts expect to have read-through to highly anticipated late-stage data in adults that are expected later this month.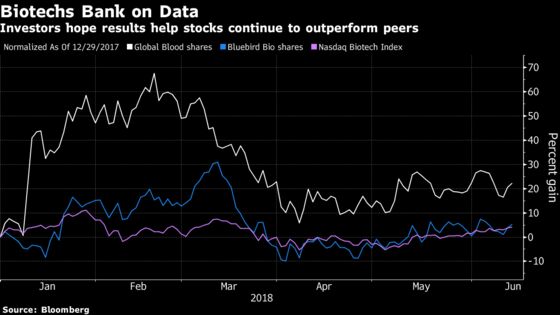 The meeting starts Thursday and continues through June 17.
Bluebird will publish data from its pivotal Phase 3 "HGB-207" trial of LentiGlobin in beta-thalassemia and results from a Phase 1 trial of the therapy in severe sickle cell disease. Investors will be "particularly focused" on sickle cell as they look to see if longer follow-up reinforces encouraging trends already seen, BMO analyst Matthew Luchini wrote in a note to clients.
William Blair analyst Raju Prasad expects positive updates for both programs after the company's therapy, bb2121, drew mixed reactions at an earlier conference. Shares may break out of their recent range after the results and a conference call to review the data on June 15 at 8 a.m. New York time.
Global Blood Therapeutics
Investors will get a look at Global Blood's 24-week data for voxelotor in kids with sickle cell disease that may provide read-through to the company's upcoming Phase 3 "Hope" study. The combination of data presented at the conference and Phase 2 results are likely to de-risk voxelotor's $2 billion market opportunity, Nomura analyst Chris Marai wrote in a note.
Global Blood will look to add to this year's 20 percent rally after hosting its first poster sessions on June 15 at 11:30 a.m. with a pair of sessions on Saturday.
Epizyme Inc. will present updated data from a Phase 2 study of tazemetostat in follicular lymphoma with wild-type or mutant EZH2 genes. Investors will focus on the drug's ability to show continued response rates and a steady safety profile, Roth analyst Jotin Marango wrote. He is looking for the response rate to remain above 70 percent and will also pay attention to trends in the duration of therapy and the duration of response.
The Cambridge, Massachusetts-based company has seen a 26 percent rally to start the year and will host a conference call at 8:30 a.m. on June 15 to discuss the updated results.
ArQule Inc. investors that have celebrated the stock's more than 200 percent rally this year will shift their focus to Phase 1 data for ARQ 531 in patients with relapsed or refractory hematologic malignancies. Oppenheimer analyst Hartaj Singh expects the data to focus on the PK/PD profile, and he is looking for updates on biomarkers and side effects. The results will be presented June 15.
Karyopharm Therapeutics Inc. will present updated results from its Phase 1/2 combination trial of selinexor and dexamethasone with standard approved therapies in patients with heavily pretreated multiple myeloma.
Investors hope the results will fuel this year's 81 percent rally with presentations starting at 2:30 p.m. on June 15.
Blueprint Medicines Corp. will present Phase 1 data on BLU-285 as a treatment for advanced systemic mastocytosis, a disease that currently has no effective treatment options. Goldman Sachs analyst Terence Flynn expects the focus will be on consistency of activity and durability. The company will present the results June 15 at 11:30 a.m.
Atara Biotherapeutics Inc. will present updated overall survival data for patients with Epstein-Barr virus-associated post-transplant lymphoproliferative disorder. Jefferies analyst Maury Raycroft said that management suggested that overall survival in hematopoietic stem cell transplant patients probably won't be reached yet. The company will present June 15.