Health Deal Darlings Should Bask in AT&T Afterglow: Street Wrap
(Bloomberg) -- Health insurers and pharmacy-benefit managers with a rash of billion-dollar deals on the line are likely breathing sighs of relief after AT&T Inc. won clearance to takeover Time Warner Inc.
The long-awaited green-light bodes well for CVS Health Corp.'s proposed $68 billion acquisition of health insurer Aetna Inc. and Cigna Corp.'s $54 billion deal for Express Scripts Holding Co., according to analysts. Investors were concerned the tie-ups may be challenged by the U.S. Department of Justice as both mergers received "second request" notifications, Matt Borsch, an analyst at BMO Capital Markets, wrote in a note to clients.
"The court decision to allow the media merger to proceed will likely be interpreted to mean similar vertical mergers would be permitted in the healthcare space," RBC Capital Markets analyst George Hill wrote. "We would expect to see deal spreads narrow going forward."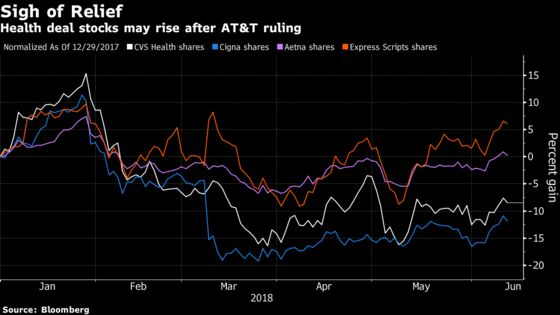 BMO Capital Markets (Matt Borsch)
The news is positive and increases confidence that deals will gain Department of Justice approval though the ruling "does not guarantee that other vertical integration deals will receive consent."
Department of Justice requests notifications were highly anticipated and "leave the door open" to challenge one or both deals ahead of expected closures this year.
Stocks may trade higher given the ruling de-risks the shares as investors were concerned the deals may be challenged by the Department of Justice.
RBC Capital Markets (George Hill)
Decision has a modest positive impact on the prospects for both mergers to close as AT&T's clearance implies "similar vertical mergers would be permitted in the healthcare space."
Expects to see deal spreads narrow going forward and that there is an attractive implied return to the deal price for Express Scripts.
The ruling should provide more confidence in the approval of the CVS-Aetna merger.
"We think the DOJ will look at how both deals could impact the competitive landscape together, especially the impact on mid-size managed care companies, but we continue to believe both deals are ultimately approved."
"We are even more confident" that the Department of Justice won't challenge the CVS-Aetna merger and shares should rally today.