Grab Should Beware of Carmakers Bearing Cash
(Bloomberg Opinion) -- Grab Holdings Inc. seems pretty pleased with itself at nabbing a $1 billion investment from Toyota Motor Corp.
The idea isn't new – Toyota pumped in a small amount last year – but this is the biggest financing by a car company of a ride-hailing service.
Grab ought to be wary of such largess in a deal that looks a bit like vendor financing. The Southeast Asian startup needn't be so desperate, given that there are so many investors out there that would gladly throw money into the region's sharing economy.
Details of the heightened cooperation were scant in a statement full of fluffy terms like "one-stop mobility platform," "make mobility accessible for all" and "connected car services."
Three items stand out, though: user-based insurance, financing program, and predictive maintenance. These suggest that Grab is ready to move away from an asset-light model, simply connecting drivers with riders, and become an asset-management business that may even one day have its own fleet. That would be a mistake.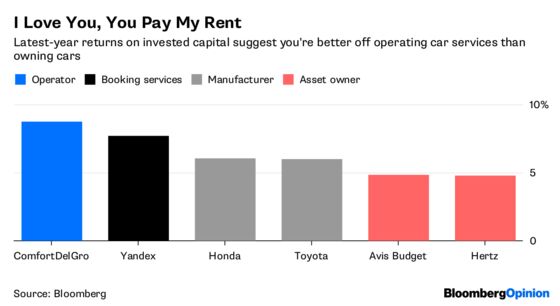 What's made brands like Grab, Uber, Didi and Lyft so compelling is the fact that they're not buying, running and maintaining fleets of vehicles in the way that Hertz Global Holdings Inc. and Avis Budget Group Inc. do. 
Grab talks about providing drivers with "increased opportunities for them to move up the economic ladder." That's a noble sentiment. But even if Grab stops short of owning vehicles itself and merely facilitates loans to buy new cars, the company then bears the responsibility of ensuring drivers get enough work to pay off those debts. 
In taking cash from Toyota, Grab should be careful it's not driving down a dead-end street.
-- David Fickling contributed to this column.