Fox `Clear Winner' as Analysts Look to AT&T Ruling to Spur Deals
(Bloomberg) -- Wall Street expects that AT&T Inc. winning U.S. antitrust clearance to buy Time Warner Inc. will have widespread effects on planned and speculated deals across the media sector. Twenty-First Century Fox Inc. is a "clear winner," according to Jefferies, as the court's decision is expected to draw Comcast Corp. into a bidding war with Walt Disney Co. Raymond James says the ruling may also have positive implications for T-Mobile US Inc.'s proposed purchase of Sprint Corp. and may lead investors to ponder a potential tie-up between Charter Communications Inc. and Verizon Communications Inc.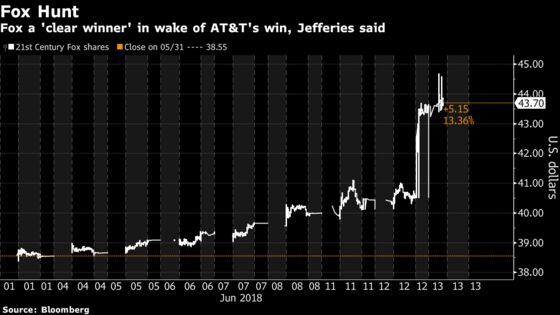 Here's what analysts are saying about pending and potential media deals:
MoffettNathanson, Michael Nathanson
MoffettNathanson downgraded Time Warner from buy to neutral and lowered price target to $103 from $109 to reflect the approval of the deal at AT&T's current price.
Although Time Warner will initially be a positive for AT&T's earnings, Nathanson says to "be careful what you wish for" as the deal will be a negative for the balance sheet. He downgraded AT&T to sell from neutral and cut his price target to $28 from $35.
AT&T shares will probably be range bound.
"The ruling removes the M&A overhang, brings mid-single digit deal accretion, and better positions AT&T to compete."
AT&T may need to accelerate investment in Time Warner as advertising benefits and opportunities may take longer to materialize and risks to standalone earnings forecast remain.
Evercore ISI, Vijay Jayant
Time Warner shares are trading higher on the positive trial outcome, but "we don't believe that there is any fundamental justification for weakness" in AT&T shares since the deal will add to both earnings and free cash flow per share.
U.S. District Judge Richard Leon, in his conclusion, stated that "the temptation by some to view this decision as being something more than a resolution of this specific case should be resisted by one and all!" Even so, Evercore says few will be able to resist that temptation.
If there is no appeal Wednesday, "the odds that the DOJ abandons the case rise significantly" as Judge Leon strongly discouraged the government from seeking an emergency injunction.
The deal will likely close on June 18 and no later than June 20, unless the Justice Department decides to move forward.
Raymond James, Frank Louthan
"The lack of conditions is significant as it alleviates the oversight of the DOJ or other agency watchdogs."
Fox is a "clear winner following today's ruling, as it will likely set off a bidding war" between Comcast and Disney, which will probably weigh on Comcast shares.
Offers from Comcast or Disney could reach as high as $80 billion, or $42.50 a share, and still maintain investment-grade credit ratings.
Raymond James, Frank Louthan
A formal offer from Comcast for Fox's entertainment assets will probably receive more regulatory scrutiny than the Time Warner-AT&T deal did.
Ahead of the court ruling, KeyBanc told Bloomberg that approval of the Time Warner-AT&T deal would likely mean "we'd get a Comcast deal by the end of the week."
Raymond James, Ric Prentiss
Raymond James upgraded Sprint to outperform from market and raised its price target on T-Mobile to $82 from $77 with a reiterated strong buy rating. New ratings reflect a 65 percent probability that the proposed deal is approved and closes by the end of 2019.
"We remain cautious on the regulatory prospects and believe the horizontal wireless merger poses significantly higher antitrust concerns."
"We do not anticipate the DOJ to be swayed by its loss in the AT&T litigation."
Raymond James, Frank Louthan
Investors think Verizon will have to do something in response to the Time Warner-AT&T deal and Charter could spark renewed interest as a target.
"Verizon will not be pressured to do any large deal in response, and believe in the short term, any pressure from that expectation remains an opportunity."