ECB Said to Look at Deutsche Bank, BNP, SocGen Trading Books
(Bloomberg) -- The European Central Bank is taking its closest look yet at the trading books of three of the euro zone's biggest lenders, according to people briefed on the matter.
The Frankfurt-based supervisor asked BNP Paribas SA, Deutsche Bank AG and Societe Generale SA several months ago to provide details of how they value bonds, stocks and derivatives on their trading books, the people said, asking not to be identified discussing confidential information. The review is now close to a conclusion, they said.
The ECB, in its fourth year as the region's bank supervisor, wants to dig deeper into the trading operations of the euro area's top lenders, particularly how they use the leeway they're given to price hard-to-value assets and liabilities themselves. Known as Level 3 instruments, they're considered important to keep an eye on because of the potential risks they pose to financial stability, even though they represent less than 1 percent of total assets.
If the ECB were to judge that banks had under-priced the risks, it may ask them to revalue the Level 3 assets, either by writing down their book value or by assigning them higher risk weightings. Either would have a negative impact on the banks' regulatory capital ratios.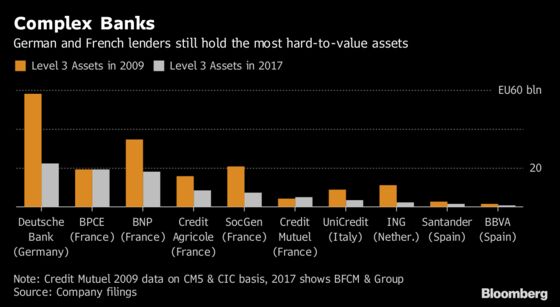 News of the probe was reported earlier by Sueddeutsche Zeitung. BNP Paribas, Deutsche Bank and SocGen declined to comment when contacted by Bloomberg News.
Earlier this month, Deutsche Bank Chief Financial Officer James von Moltke told a conference that its portfolio of Level 3 assets had fallen to 22 billion euros ($26 billion), unadjusted for risk, out of a total balance sheet of 1.47 trillion euros.
The portfolio is "running off in line with our expectations," von Moltke said. "Some of it's longer-dated, but it's performing as we expect."
In their 2017 annual reports, BNP Paribas said it had 11.7 billion euros of Level 3 assets at the end of the year, while SocGen reported 6.6 billion euros.
Euro-zone governments, notably Germany's, have said they want to see progress on reducing the overall level of risk at the region's banks before they commit to more permanent mechanisms for risk-sharing such as common deposit insurance. Clearing up residual questions about the risks of Level 3 assets is part of that exercise.
Daniele Nouy, chair of the ECB's supervisory board, said last month the institution had subjected major trading banks to "a combination of enhanced monitoring, 'deep dives' and on-site inspections" on Level 3 assets, though she wasn't specific about which firms were targeted.
ECB executive board member Sabine Lautenschlaeger has also talked about collecting information on lenders ahead of the Fundamental Review of the Trading Book, a global regulatory initiative coordinated by the Basel Committee on Banking Supervision.