Comcast Taps '80s-Era Financing Playbook in $65 Billion Fox Bid
(Bloomberg) -- Brian Roberts is going back to a 1980s greatest financing hit as he pursues a deal to shore up Comcast Corp.'s future.
The Comcast chief, who unveiled a $65 billion all-cash offer for entertainment assets of Rupert Murdoch's 21st Century Fox Inc. on Wednesday, is relying on so-called highly confident letters from Bank of America Corp. and Wells Fargo & Co. to finance the bid. The tactic, a staple of corporate raiders three decades ago, was also employed by Broadcom Inc. in its ill-fated bid for Qualcomm Inc.
The two banks have told Comcast they are "highly confident" that they will be able to arrange financing for the $65 billion offer in debt markets. "Our proposal is not subject to a financing condition," Comcast said in a statement.
It's a cheaper way for acquirers to line up financing because they don't have to shell out costly commitment fees to guarantee the funds. It's also less onerous for underwriters, who don't have to put their balance sheets at risk if markets seize up and the bankers fail to come up with the funds.
The highly confident letters, once a favorite of junk-bond king Michael Milken's Drexel Burnham Lambert, have typically been used in unsolicited or hostile takeovers that require large amounts of debt. Carl Icahn used such a letter in his pursuit of petroleum company Phillips 66 in 1985. More recently, Bayer AG used one in its $66 billion bid in 2016 for Monsanto Co.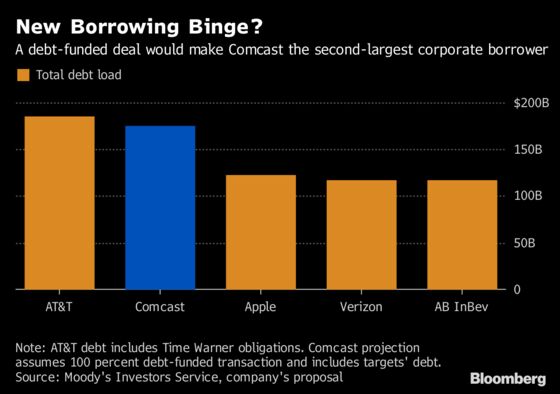 Comcast hasn't said how much it would need to raise from debt markets to complete the Fox deal. If it beats Walt Disney Co. in a bidding war for Fox's entertainment assets, Comcast would become the second-most indebted nonfinancial company, Moody's Investors Service analyst Neil Begley said in a report last month.