Burst of Energy Output Puts U.S. on Track to Be Net Exporter
(Bloomberg) -- U.S. energy production is booming, yet consumption has flat-lined, putting the country on track to be a net exporter for the first time since 1957.
If the breakneck 2011-15 output pace of about 6% above the five-year average resumes -- as seems likely -- production should draw ahead of stalled consumption in 2021, according to Mike McGlone and Richard Marquit of Bloomberg Intelligence. If the disparity slows to production gaining 3% above the five-year average, 2029 will be the break-even date.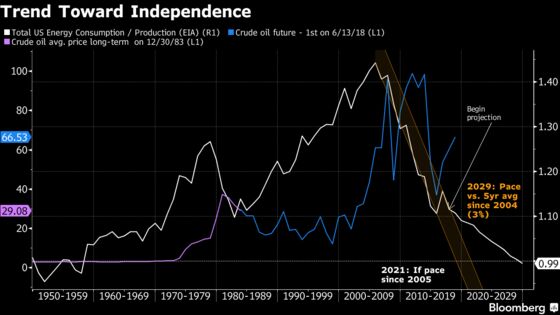 Once strongly influenced by GDP, the pace of U.S. energy consumption is unlikely to gain much with improved growth, as rapidly advancing technology and demographic shifts appear to be overwhelming the relationship. From 1999-2017, U.S. energy supply has increased 22% vs. 1% for demand. Natural-gas products are the greatest factor in the rise, about 38% of the total.
Read more: It's Different; U.S. Can Be Energy-Independent in Three Years
(The above item first appeared in Bloomberg's Markets Live blog.)