AT&T Win Unleashes Wave of Investors' Bets on Next Big M&A Deal
(Bloomberg) -- After AT&T Inc. got clearance to buy Time Warner Inc. late Tuesday, investors were quick to bet that a broader wave of mergers is coming.
Takeover speculation sent shares of Lions Gate Entertainment Corp. up the most in almost five months on Wednesday, while Discovery Inc. -- another potential media target -- climbed as much as 4.7 percent. CBS Corp. and Viacom Inc., the subjects of on-again, off-again merger talks, also rose.
AT&T's victory in a long legal battle with the Justice Department is expected to give a green light to a wide swath of companies mulling possible deals. The mobile-phone giant says the $85 billion deal to acquire Time Warner will fuel its evolution into a media powerhouse that can go head-to-head with Netflix Inc. and Amazon.com Inc.
"M&A activity across the media and telecommunications landscape has largely been in a holding pattern awaiting the outcome," Jefferies LLC analyst John Janedis said in a note. "With the deal approved, we think it could spur other M&A activity for the group."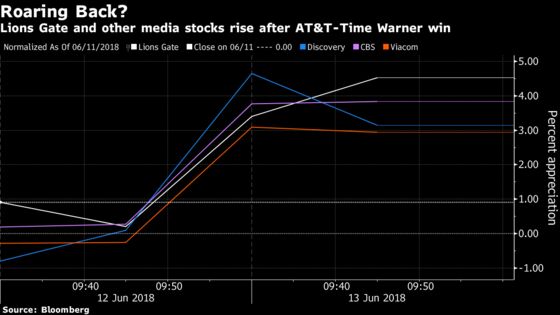 Comcast Corp. will probably be first to act, escalating its battle with Walt Disney Corp. for 21st Century Fox Inc. assets. While Fox agreed in December to sell its film and TV studios, cable channels and other assets to Disney, Comcast has said it's prepared to step in with a better offer. Comcast is expected to make a formal offer as early as Wednesday, according to a person with knowledge of the matter.
Lions Gate and Discovery, meanwhile, have long been seen as possible takeover targets because of their size in an industry now convinced that being large is critical to competing with tech companies like Netflix and Amazon. John Malone, a legendary cable industry dealmaker, owns stakes in both Lions Gate and Discovery, adding to speculation they could be potential targets.
Discovery, however, could step up as a suitor as well. It's proven it's interested in being a buyer after recently acquiring Scripps Networks Interactive.
Lions Gate climbed as much as 8.3 percent to $26.13, its biggest intraday gain since Jan. 18. Discovery rose as high as $25.14, reaching the highest level since February.
Even before Tuesday's ruling on AT&T's deal, Wall Street was looking ahead to other stocks that might be in the cross hairs of acquirers. And the ripples extend beyond the media and telecom sector. Ann Hynes, an analyst at Mizuho Securities USA LLC, said AT&T's win should lend more confidence that CVS Health Corp.'s $68 billion deal to buy health insurer Aetna Inc. will be approved.