Trump Tariffs May Cost Carmakers 1 Million Auto Sales a Year
(Bloomberg) -- If President Donald Trump slaps a 25 percent tariff on imported vehicles, it may cost the U.S. auto industry 1 million annual vehicle sales -- and that's just the low end of the estimated damage.
The projection by researcher LMC Automotive assumes automakers would absorb at least half the cost of a tax on imported vehicles, said Jeff Schuster, senior vice president of forecasting. If companies pass the full 25 percent cost on to consumers, it could snuff out about 2 million sales, or more than 10 percent of annual U.S. deliveries, he said.
President Trump's order last month to investigate auto imports for potential trade penalties on national security grounds came as a surprise and quickly drew criticism from automakers, dealers and Republican lawmakers. While some analysts discounted it as a negotiating tactic to pressure Canada, Mexico and the European Union on trade, Trump has since attacked Canadian Prime Minister Justin Trudeau following the G-7 summit in Quebec.
Trump's statements may merely be "chest thumping," Schuster said. But after the U.S. imposed tariffs on imports of steel and aluminum from countries including Canada and Mexico, the threat of new levies must be taken seriously. "The escalation is starting to happen," he said.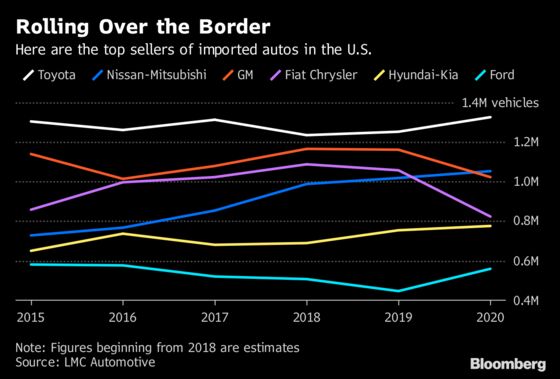 General Motors Co. is watching trade negotiations closely and providing input, Chief Executive Officer Mary Barra told reporters Tuesday ahead of the automaker's annual meeting. She didn't directly answer when asked how a 25 percent imported vehicle tariff would impact the company.
"We want to make sure that we maintain affordability in vehicles, because that's so important -- to continue to support the market that's strong, that is supporting a lot of jobs," Barra said in Detroit. LMC estimates that GM will sell 1.16 million imported vehicles in the U.S. this year, about 39 percent of the company's total deliveries.
If Trump follows through with the 25 percent tariff, Schuster said U.S. consumers would likely react in three ways. Some would look to the used car market, especially lightly used cars coming off lease. Others would shift to domestically produced vehicles with cheaper price tags. And a third group might just postpone buying a new car, under the assumption that the tariffs are the result of a temporary political spat.
Trump ordered the investigation into auto imports under Section 232 of the Trade Expansion Act of 1962, the same power he used to impose global tariffs on imported steel and aluminum.
While U.S. metal producers have been ravaged by global overproduction and depressed prices, the car market is much healthier. Sales have been slipping from a record of almost 17.6 million units in 2016, but LMC predicts a still-strong 17.1 million deliveries this year, and vehicles sold at record average prices approaching $33,000 last month.