Trump's North Korea Pact Is Different, and Not in a Good Way
(Bloomberg) -- President Donald Trump sold his nuclear agreement with North Korea on Tuesday as different from -- and better than -- any that's gone before. Measured against previous deals, though, the two-page document had similar language and was distinct mainly for being vague.
The statement Trump signed with North Korean leader Kim Jong Un committed them both to the "complete denuclearization" of the Korean Peninsula, as well as to a new relationship, a peace regime and security guarantees, none of which were defined. The omission of the words "verifiable" and "irreversible" from the phrasing on denuclearization suggested North Korean resistance to Trump's requests.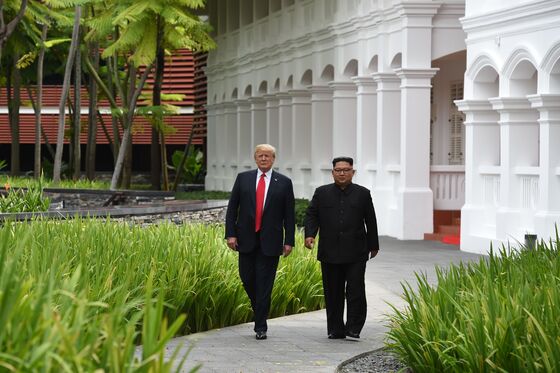 "If North Korea were genuinely interested in denuclearizing, none of these maneuvers would be necessary," said Adam Mount, senior fellow at the Federation of American Scientists.
That matters because North Korea has pledged to denuclearize the Korean Peninsula in virtually all agreements since 1992, but implementation has broken down due to a lack of consensus on what that means. Pyongyang has since pulled out of the nuclear non-proliferation treaty, built a complete nuclear fuel cycle, assembled an arsenal of nuclear weapons and developed the missiles to fire them.
Previous U.S.-North Korea agreements ultimately failed despite being more concrete and demanding of Pyongyang than the one Trump and Kim signed. Those include the 1994 Agreed Framework negotiated during the Clinton administration, which Trump specifically attacked during a post-summit press conference on Tuesday. He described it as a failure that got nothing, at a cost of $3 billion in giveaways.
The 1994 deal included detailed commitments from North Korea to close plutonium-producing nuclear reactors and secure spent fuel rods, so they couldn't be turned into weapons-grade fuel. It committed North Korea to accept international inspections and stay in the non-proliferation treaty, under which its pursuit of a nuclear bomb was illegal. Many analysts believe the deal slowed North Korea's nuclear progress by years.
Even a much derided 2005 joint statement -- an early stage effort to launch more detailed talks, and therefore comparable to Tuesday's document -- was more specific, according to Daryl Kimball, executive director of the Washington-based Arms Control Association.
It included commitments by North Korea to "abandoning all nuclear weapons and existing nuclear programs," as well as to readmit international inspectors. Tuesday's statement made no mention of inspectors.
"Well, you have a different administration, you have a different president, you have a different secretary of state," Trump said Tuesday, when asked why he thought this attempt on North Korea would turn out differently.
Trump said verification processes had been discussed at the summit, and that Kim understood it would involve accepting large numbers of U.S. and international personnel.
Other commitments also didn't make it into the text, he said, including his own plan to halt "war games" with South Korea. He said Kim told him he had just destroyed a missile engine testing site.
Yet Kimball is worried by the difficult history of negotiations with North Korea, combined with the lack of any timetable or road map for further steps in the latest agreement.
"At best this is a tentative beginning down a road that will take many years,'' he said by phone. "It doesn't spell out the pacing or sequencing for action-for-action steps, it does not -- and nor did President Trump in his press conference -- suggest they have agreed definitions on what denuclearization entails and what a creating a peace regime specifically entails.''
Michael Kovrig, senior adviser for Northeast Asia at the International Crisis Group, was puzzled, too, that the statement included no formalized commitment to the nuclear and missile test freezes that Kim has already unilaterally announced. He said the language of the document made it clear the two sides still hadn't bridged long-standing differences over what denuclearization really means.
"It was a positive sentiment for a photo op, but it is not meaningful progress from past agreements,'' he said, speaking in Singapore.
Trump tweeted his frustration over the summit's skeptical reception as he was returning to Washington: "A year ago the pundits & talking heads, people that couldn't do the job before, were begging for conciliation and peace - 'please meet, don't go to war.' Now that we meet and have a great relationship with Kim Jong Un, the same haters shout out, 'you shouldn't meet, do not meet!"'
Still, Kovrig said, it is too early to judge the summit either way. The broad language could pave the way for the kinds of victories Trump is already claiming, though over a years-long, step-by-step process.
If, as Trump said on Tuesday he sensed, Kim wants the grand bargain of disarmament for economic integration, the personal endorsement from the two leaders on negotiations may be all that counts.
In his annual New Year speech in January, Kim told his countrymen that the generations-long effort to construct a nuclear deterrent was complete, meaning his government could focus full time on developing the economy. Still, he offered no indication he planned to give up his arsenal, which he has called a "treasured sword."
To former South Korean Foreign Minister Yoon Young-kwan, Trump's attempt to start at the top with a political rather than narrowly military approach to North Korea nevertheless sets it apart from all that went before.
"North Korea is a small and weak country surrounded by big powers and that has made North Koreans paranoid about their own national security and develop nuclear weapons,'' Yoon told Bloomberg Television. "President Trump, for the first time in 20 or 30 years of diplomatic negotiations with North Korea, began to take this kind of political approach and try to tackle the root cause of this problem, which is high levels of mutual distrust."