How Takeda CEO Sells Japan's Biggest Deal to Doubters
(Bloomberg) -- Christophe Weber says growth and innovation are the metrics to success in Takeda Pharmaceutical Co.'s $62 billion purchase of Shire Plc. The first order of business is bringing global shareholders around to Japan's biggest-ever outbound takeover.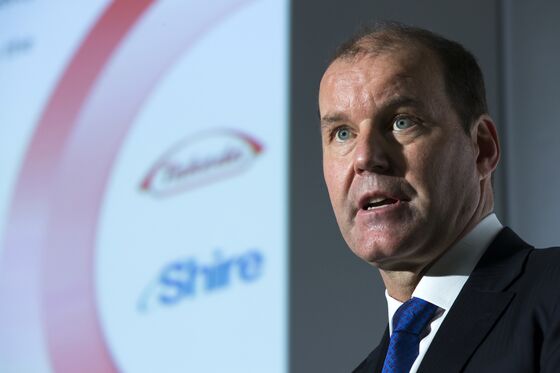 The Takeda chief executive officer is facing a 21 percent drop in the stock price since the company disclosed its interest in March, while Shire is trading 9 pounds ($12) below the offer price of roughly 49 pounds a share. He's also contending with some domestic shareholders who are averse to expansion as Weber looks to create a global pharmaceutical giant.
In an interview at Takeda's new Tokyo headquarters, the French-born CEO discusses his push to sell the deal overseas -- and in Japan -- and plans to integrate the 237-year-old drugmaker with a London-listed company with mostly U.S.-based operations.
The following excerpt has been edited for clarity and brevity.
Bloomberg: Is there a difference dealing with investors in Japan vs. the U.S.?
Weber: They all want to better understand our vision for the combined company -- what the new business will look like, when it will be combined. I think investors are starting from very different points. In Japan, many didn't know Shire at all; it's more difficult for them to understand the combination of the two. In the U.S., many people in the health-care investment sector know about Shire; some of them know about both companies.
Q: Shire still trades below the offer price. What is the market missing?
A: It's not that they don't see the benefit of the combination, it's that there is no precedent. And so people don't know exactly how it will happen. For example, there is no precedent for a Japanese company buying a foreign company with its own shares. There is no precedent for de-listing, so U.K. shareholders will have to exchange its shares with either Japanese shares or an ADR in New York.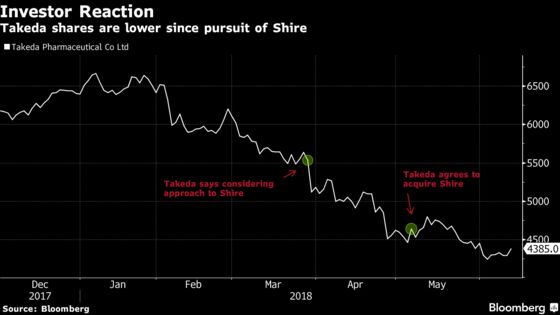 Q: How are you approaching the issue of integration?
A: This is an area we're quite comfortable with, otherwise we wouldn't have done the deal. My team is truly global. There are eight nationalities and a majority of my team is not based in Japan. The other element is that Shire's operational headquarters are in Boston and in Zurich, where we have our two hubs outside of Tokyo. So I think this proximity will help greatly. It will not be easy but we really analyze that, because most mergers are not super successful because of integration.
Q: What will be the hardest part of integration?
A: I think M&A or integration in the pharmaceutical industry is often highly disruptive for R&D. And this is where we have a big advantage because Shire has not invested strongly in research. We don't have to go through the disruption of closing a research site or merging a research site, which takes a long time and has some impact on the pipeline and is so complicated. The R&D integration is relatively simple because of that.
Q: What do you need to do to bridge the cultural gaps?
A: We'll have to build a new business organization and we're actively starting to work on that. Takeda has a much longer history and stronger culture in terms of value system. We are very patient-centric -- it's do the right thing for the patient, reinforce trust with society, develop the reputation of the company and develop the business, in that order. I think Shire is also patient-centric because in rare diseases you need to have this mindset. I think their business organization is not too dissimilar from Takeda's.
Q: How will you determine if integration has been a success?
A: In three years we will have to look at Takeda and where it is positioned in the global pharma market. We'll look at what type of pipeline and science it is generating, the type of resilience the company has, its growth and its ability to innovate. ... We will design a new company which will be very R&D driven, very very science driven. But also very fit for the future environment that we will face.
Q: Many say your legacy will hinge on the success of the Shire deal.
A: I don't have any personal agenda. I don't have any ego to feed. I'm doing this deal because I think this is a unique opportunity for Takeda to be much more competitive. And this is a unique opportunity for Japan, because Japan doesn't have a global champion and might never have one if we don't do this deal. The countries that have one, they all built it by M&A -- GlaxoSmithKline, Sanofi. It's easy to say their M&A has been bumpy along the way, but what would those companies be if they had not done it?