Sage Therapeutics Rises as Depression Study Moves to Fast Lane
(Bloomberg) -- Sage Therapeutics Inc. climbed the most in two months after the U.S. Food and Drug Administration approved an expedited development plan for what the company says could be a practice-changing depression treatment.
The biotechnology company only has to run a single 450-patient trial, which will allow for a compact, reasonably cost-efficient program that can assure both safety and effectiveness, Chief Executive Officer Jeff Jonas said in an interview. The medicine, SAGE-217, and the study design are different from those that have haunted psychiatric drugs in the past, according to Jonas. Late-stage trials have tended to be very large given safety concerns or the need to overpower the doses to heighten the effectiveness.
"We don't have to overpower these studies," Jonas said by phone. "This is a completely new animal, this is a different way of treating depression."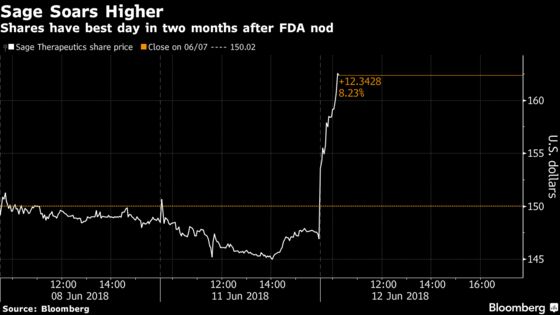 The Cambridge, Massachusetts-based drugmaker aims to use SAGE-217 to help "re-write the textbook on how depression is treated," Jonas said. The medicine offers the potential for a two-week dosing period in both major depressive disorder and post-partum depression, rather than chronic treatment.
The shares rose 14 percent at 11:03 a.m. in New York, giving the company a market value of about $7.8 billion as it led the Nasdaq Biotech Index higher.