Qatari Royal Urges Speedy Reforms as Doha Vies for Investors
(Bloomberg) -- Qatar shouldn't be lulled by rising oil prices and the fading effect of a Saudi-led boycott if it wants to challenge rivals to become a regional trade hub, a leading businessman who once helped to steer the country's economy said.
Sheikh Mohamed A. Althani, a former economy minister and now chairman of Mohajl Group, urged the government to maintain new trade routes that developed as a result of the embargo, and to open the gas-rich economy further and faster. His observations are a rare assessment of the government's handling of the Gulf crisis by a business owner and royal.
Although Qatar handled things well during the embargo, it needs to press on with reforms, Sheikh Mohamed said. In the past, when oil was over $100 a barrel and money was easy, some officials would drag their feet rather than introduce changes, and they shouldn't fall back into that pattern, he said.
"This is the first time we are seriously going through a diversification mode" that presents opportunities in agriculture, food processing, and logistics, Sheikh Mohamed said in an interview in his Doha office. "For a family that has a business and wants to settle, they will find Qatar attractive."
Taking on rivals in the Gulf Cooperation Council won't be easy, especially as Saudi Arabia and the United Arab Emirates are also trying to attract overseas investment using similar measures as Qatar, including plans to relax company ownership rules and grant foreigners permanent residencies.
Qatar, the world's richest country in per capita income thanks to its vast natural gas reserves, is dwarfed by the economies and domestic markets of Saudi Arabia and the U.A.E. While it notched a gain in foreign direct investment last year, its $986 million total was still considerably less than the U.A.E.'s $10.4 billion and Saudi Arabia's $1.42 billion, which plummeted 81 percent in 2017, according to a United Nations report.
The former minister said Qatar has advantages over its rivals, especially after they expelled Qataris and froze some Qatari assets under the embargo. "Dubai has a credibility issue. They say they are the hub yet Qataris can't access it, Omanis and Kuwaitis are afraid," he said. "People will find us better."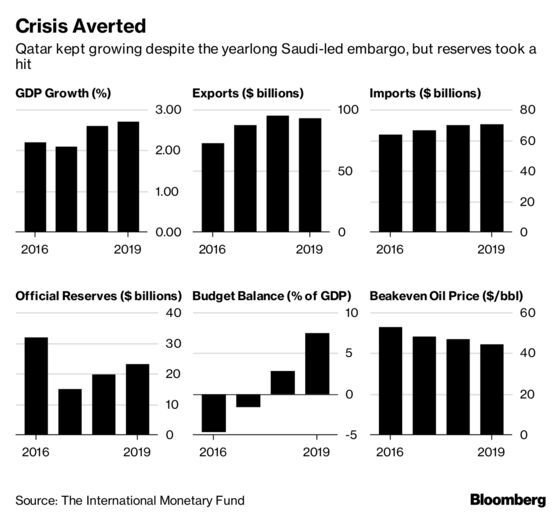 The June 5, 2017, boycott cut off Qatar from major trading partners Saudi Arabia and the U.A.E., and sapped its economic momentum as oil prices were rising. Qatar's government was quick to open new shipping lines with countries including India and Oman, promote local manufacturing and eliminate bureaucratic hurdles.
While the initial impact was severe, with stocks, imports and tourism tumbling, the economy has bounced back. Imports and exports are up, the country is on track to post a budget surplus this year, and the economy is growing faster than most of its peers, after the government infused billions of dollars to keep banks liquid.
Some of Mohajl's businesses, which span petrochemicals, real estate and insurance, were hurt by a drop in tourism, a stagnant property market, and the loss of chemical buyers in the U.A.E. in the first months of the boycott, Sheikh Mohamed said. He found new customers beyond the region for his chemicals and is selling fertilizer to India, China and Australia. Real estate prices haven't fully recovered, he said.
The U.A.E. and Saudi Arabia say the embargo has been a great success, so much so that Crown Prince Mohammed bin Salman has dismissed his Gulf neighbor as too insignificant to bother with.
Sheikh Mohamed has a different view. Qatar's travails pale in comparison with the self-inflicted blows of Saudi Arabia, he said, citing the kingdom's high unemployment rate, large deficit, and its intervention in the affairs of Yemen and Lebanon.
"Saudi Arabia is the biggest loser from the blockade," he said. The kingdom was "respected by everyone in the GCC for its size and religious power. After the blockade, the war in Yemen, and the kidnapping of Lebanon's prime minister, there is no more trust in the region."