Exxon Is Said to Take Baby Steps to Expand Oil Trading Unit
(Bloomberg) -- Exxon Mobil Corp. is dipping its toe in the world of oil trading, hiring executives and showing an appetite for expanding its operations. Yet, the U.S.-based company is moving carefully, still far away from building an in-house trading unit similar to the mighty businesses run Royal Dutch Shell Plc, BP Plc and Total SA.
Exxon recently hired Paul Butcher, a senior oil trading executive in Europe who has worked in the past for BP and Cargill Inc., according to people familiar with the matter who asked not to be named because the information isn't public. Nelson Lee, the former head of oil trading at Cheniere Energy Inc. in June, according to Lee's LinkedIn profile.
The expansion into trading, a move that the company has mulled for the past couple of years, represents a sharp break with the past, as the oil giant looks to boost performance that has lagged its competitors. Still, Exxon is taking a cautious approach compared with the large operations run by some of its rivals -- and, before its 1999 merger with Exxon, by Mobil itself -- that often take big proprietary bets on markets worth dozens of millions of U.S. dollars at any time.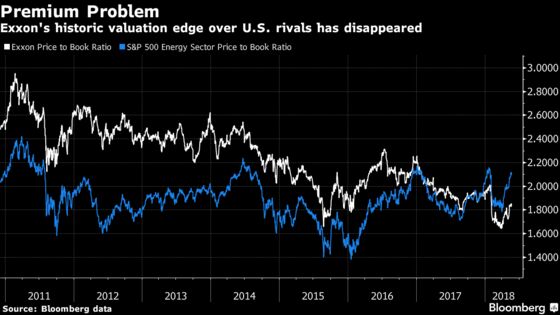 The company, which operates the world's largest refinery business by capacity, can process almost 5 million barrels a day in its plants and joint ventures around the world. It's particularly keen to squeeze profits by managing more effectively how it buys crude for the refineries and sells the gasoline, diesel and other firms they produce, two of the people said.
Exxon is in the market for more traders, analysts and executives, although the company's final plans remain unclear, according to industry recruiters. It also hired gasoline analysts focused on fundamentals from Phillips 66 earlier this year. The company has also been exporting at least double the amount of crude it moved last year, people said.
Reuters earlier reported the news of the hires and Exxon's expansion plans.
Exxon said it uses commodity-based contracts and derivatives "for trading purposes," in its Feb. 28 10-K filing for 2017. This was a change from the previous year when it said: "The corporation does not engage in speculative derivative activities or derivative trading activities."
Exxon spokesman Scott Silvestri declined to comment beyond referring to the 10-K filings.
In a conference call in October 2016, Jeffrey Woodbury, Exxon vice president for investor relations, explained to analysts how Exxon saw trading. "By and large, we're price takers," he said. "We don't typically speculate or take positions in markets."
Exxon isn't alone in taking baby steps in building a more sophisticated trading operation. Saudi Aramco, which traditionally avoided trading to focus on long-term supply contracts, has started trading in refined products and expanding now into third-party crude. And ADNOC, the state-owned oil company of the United Arab Emirates, has also indicated it plans to build a trading operation.