Chinese Electric Scooter Startup Takes Aim at European Market
(Bloomberg) -- A Chinese electric scooter maker is starting an aggressive new sales push in Europe in a sign the region's growing market for battery-powered two wheelers is set to get crowded.
The startup called Niu unveiled two new models on Tuesday aimed at hip, young consumers trying to navigate congested European city streets. The venture capital-backed company flew hundreds of journalists to an event at the Louvre museum in Paris to hear executives make their pitch.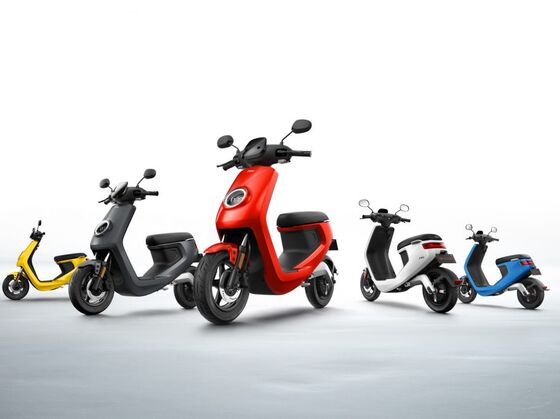 Europeans have a long tradition of using scooters to beat traffic, with Italy's Vespa and Japan's Honda among models commonly seen on urban roads. Both have laid out plans for electric versions. At the same time, battery-powered motorcycle registrations increased 120 percent to 1,700 in Europe during the first quarter of this year, according to industry group ACEM, while those for electric mopeds rose 50 percent to 5,800.
"Policies across the region are pushing out petrol and offering incentives for two wheels," a spokesman for Niu said. The company sold 4,600 of its scooters in Europe last year, and aims to at least double the number by 2020.
The Chinese company's models designed for the European market are expected to be available from 2019. The M+ model sells for 2,299 euros online ($2,700), while the N-GT is priced at 4,499 euros and has a top speed of 70 kilometers an hour. Niu is eyeing sales in dense cities like Paris.
While its models sold in China are equipped with locally-made components, the two-wheelers designed for export feature an engine made by German car-parts maker Robert Bosch GmbH and a lithium-ion battery manufactured by Japan's Panasonic. The scooters also have a built-in internet connection provided by Vodafone Group Plc that allows users to check on a dedicated smartphone app their real-time battery levels and location. Both the N-GT and the M+ can be charged in 3 1/2 hours and have an autonomy of more than 100 kilometers.
Niu, named for the Chinese word for buffalo, sold close to 200,000 scooters worldwide last year, the majority in China. The company says it has a presence in 27 countries including Germany, Spain, Italy, Sweden, France and the Netherlands. Europe is its second-biggest market after China.