Booming Convertible Bonds Touted by Jefferies as Duration Dodge
(Bloomberg) -- As the world's largest central banks meet this week, investors and issuers can find refuge in convertible bonds.
Jefferies Group is urging investors to snap them up as the Federal Reserve looks set to raise its benchmark interest rate for a second time this year and the European Central Bank eyes the end of its asset-purchase program.
Since convertible bonds transform into stock when company growth brings about higher share prices, the tighter monetary policy that often comes as economic expansion heats up is much less of a drag. The securities' link to rising equity prices essentially offsets duration risk, according to Jefferies, which recommended them to clients in a note Tuesday.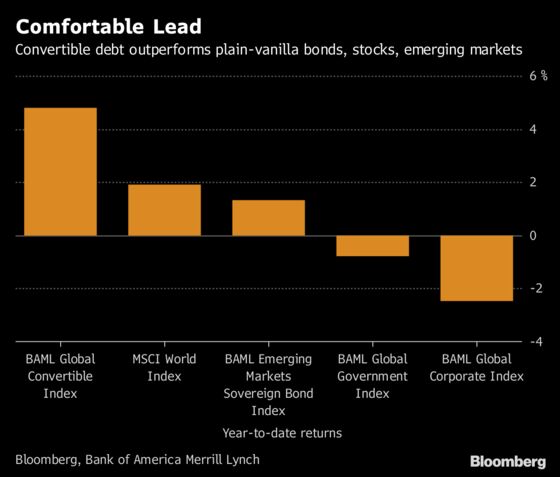 With the Fed's policy announcement on Wednesday and an ECB meeting on Thursday as U.S. benchmark yields flirt with 3 percent, "investors should once again consider convertible bonds within their global asset allocation," according to Sean Darby, the chief global equity strategist at Jefferies. "Fortunately, supply is no longer a problem."
Global convertible bond sales are on a tear, with U.S. issuance this year on track for the highest level since before the financial crisis, spurred by tax changes that boost the allure of the securities and demand for a cushion against higher equity volatility. Twitter Inc. last week sold $1 billion in convertible notes in its second-ever debt offering.
Returns on the securities this year have handily beat plain-vanilla corporate bonds and stocks as well as government bonds from developed and developing nations.
Companies like issuing convertible notes because they have lower coupons than conventional bonds, reducing their borrowing costs. Of course they aren't always a great deal for investors -- if the issuer's shares never reach the conversion price, holders are left with smaller interest payments than they would have gotten from a regular bond, though it's also true that some buy the debt with this expectation or as part of an arbitrage strategy.
Companies may also find it difficult to refinance a convertible bond should stock prices fall and their fortunes turn.
But for investors who want to bet on corporate growth, Jefferies says convertible bonds hold a lot of appeal.