Barbecue Wars Fire Up With McCormick Mustard Challenge to Kraft
(Bloomberg) -- There's a battle brewing for control of the condiment aisle.
As the grilling season heats up, so is competition on supermarket shelves that stock mustard and ketchup. McCormick & Co., known mostly for spices and seasonings, is trying to sell more of the newest big products in its portfolio: French's mustard and Frank's RedHot.
McCormick acquired those brands -- the top-selling mustard and hot sauce in the U.S. -- last year in its biggest acquisition, a $4.2 billion deal that put it on a collision course with Kraft Heinz Co. The industry giant, backed by Warren Buffett, has rapidly expanded its mustard business over the past few years and launched a new line of barbecue sauces to complement its market-leading Heinz ketchup.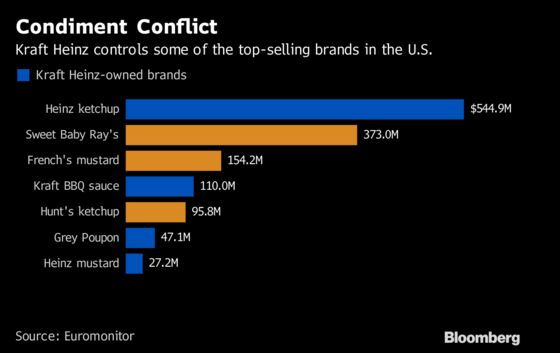 With both companies trying to take a bigger piece of summer barbecue spending, it's shaping up as a high-stakes brawl for control of a roughly $4 billion industry, according to Gary Stibel, chief executive officer of New England Consulting Group, which advises food companies.
"We're going to see a condiment war," he said.
McCormick has a lot riding on the fight. Its shares slid more than 5 percent last July, when it announced the deal to buy the brands from Reckitt Benckiser Group Plc, the European maker of Lysol and Durex condoms. While investors initially reacted warily to the steep acquisition price, the stock has recovered and is up about 14 percent since then.
The Reckitt deal gave McCormick a pair of prominent, high-margin brands that were being under-managed by a company that wasn't focused on food, according to Lawrence Kurzius, McCormick's chief executive officer.
McCormick is a leader in spices and seasonings, and Kurzius argues it can use that experience with retailers to take on a similar role in condiments. So-called category captains -- the companies that produce the biggest brand in a given section of the store -- have sway with grocers over which brands get onto shelves and product placement. Kraft Heinz has had free reign in the condiment aisle since the company was formed in 2015, according to Kurzius.
"They've had their way for a long time," he said in an interview. "That's something we can push back."
Kraft Heinz is considerably bigger, with a market value north of $70 billion, compared with about $13.8 billion for Sparks, Maryland-based McCormick. And Kraft has used its heft to drive sales growth in condiments in recent years.
French's has long topped mustard sales in the U.S., but its market share has slipped in recent years. That's mainly because of Kraft Heinz. When the deal to create that company was announced, its new management said it was a making a "big, bold bet" on mustard, with plans to push the Heinz brand into more stores.
Yellow mustard was mostly an afterthought at Heinz before the merger with Kraft, solid in stadiums and restaurants but with little to no presence in grocery stores. By the end of last year, it had captured more than 6 percent of the market. Kraft Heinz also owns Grey Poupon, and now controls about 17 percent of the mustard category in the U.S., according to Euromonitor.
Heinz ketchup, meanwhile, has seen its sales continue to grow -- to $545 million in 2017 -- under the new management, from private equity firm 3G Capital. The iconic product accounts for about two-thirds of the U.S. market and is more than five time bigger than Conagra's second-place Hunt's.
Kraft Heinz recently pushed into mayonnaise, the most popular U.S. condiment, and scored a marketing coup on Twitter when it asked users to vote on whether it should launch a mayo-ketchup mix it dubbed "Mayochup." The vote passed, and the product will launch later this year. Unilever, the maker of Hellmann's, is also a major condiment player, and recently launched a line of ketchup. Last year, it paid about $140 million for Sir Kensington's, a startup that has resonated with younger consumers with its non-GMO ketchup and eggless mayo.
Now, McCormick is muscling into the fray. Kurzius said he thinks Heinz mustard has gotten too much real estate in grocery stores, mostly because Reckitt wasn't investing in the business. He said Frank's deserves more space, particularly outside the New York area, where the product is less recognized. Frank's is best known as a ingredient in Buffalo-wing sauce, and McCormick plans to "lean into" that with marketing, Kurzius said.
The overall condiment category has barely budged since 2015, gaining less than 1 percent to reach $4.22 billion in sales, according to Nielsen. One pocket of growth has been hot sauce, which is catching on in popularity as younger generations embrace spicy food. Still, with overall sales flat, the competition between McCormick and Kraft Heinz could come down to a grinding battle for market share, according to Kurt Jetta, chief executive officer and founder of Tabs Analytics, a retail and consumer research firm.
"They have a tough road ahead," he said. "It's a land grab when it comes to finding growth in a flat sector."