Someone Bet Big on Boston Scientific Before Stryker Deal Report
(Bloomberg) -- Boston Scientific Corp. options traders who placed bets early in Friday's session are enjoying gains of more than 300 percent after the Wall Street Journal reported that the device maker was approached by rival Stryker Corp. about a potential deal.
Of the 20,919 July $32 calls that changed hands on Friday, one block of 7,482 appeared to have been bought for 72 cents, yielding a gain of about 400 percent. Of the 5,739 Jan. $35 calls that traded, one block of 4,900 was bought at 80 cents, yielding a one-day gain of about 300 percent.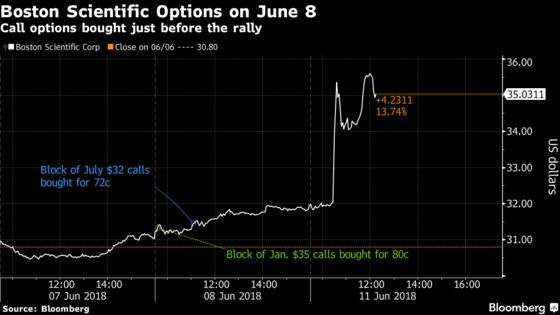 Boston Scientific and Stryker both declined to comment on deal speculation. Shares of both companies were halted in midday trading.