Saudi Arabia, Two Gulf States Pledge $2.5 Billion Jordan Aid
(Bloomberg) -- Saudi Arabia and two Persian Gulf nations pledged $2.5 billion to help support Jordan's economy after a proposed income-tax increase sparked some of the largest protests since the Arab Spring in 2011.
The package of aid will include a deposit in the Central Bank of Jordan, guarantees to the World Bank on Jordan and annual support for the Jordanian government's budget for five years, according to a statement posted on the state-run Saudi Press Agency website.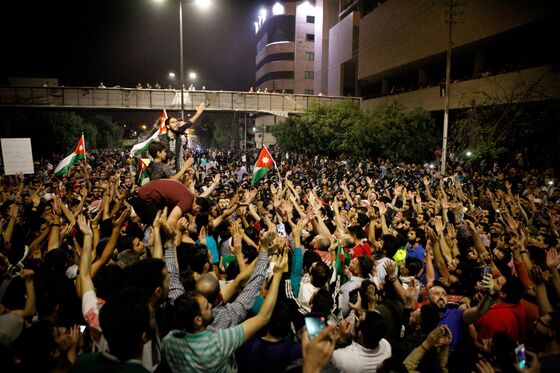 The agreement came after a hastily arranged meeting in Islam's holiest city of Mecca among Saudi Arabia's King Salman bin Abdulaziz Al Saud, Jordan's King Abdullah II, Kuwait's emir, Sheikh Sabah Al-Ahmed Al-Sabah, and Sheikh Mohammed bin Rashid Al Maktoum, the United Arab Emirates' prime minister and ruler of Dubai.
Jordan has for decades relied on foreign aid from the U.S. and oil-rich Gulf nations to prop up its economy, and the influx of 1.5 million Iraqi and Syrian refugees has further strained the country's finances.
In 2016, it secured a $723 million loan from the IMF to support a three-year program of reforms aimed at cutting the deficit and stabilizing the economy while protecting the poor. As financial aid from Gulf countries dwindled over the past year, however, increases in fuel and electricity prices and planned tax rises have been met with growing public anger.
"The size of the pledge is 3 1/2 times the size of the ongoing IMF loan," wrote Hasnain Malik, Dubai-based global head of equity research at Exotix Capital. It is "probably attached to an ongoing commitment to geopolitical alignment, possibly logistics support for operations in Syria, cooperation with Israel and an anti-Muslim Brotherhood stance," he said.
The pledges, he added, "are motivated by desire not to see, firstly a fellow monarchy threatened by protests, and secondly, any social unrest which Iran or the Muslim Brotherhood might exploit to weaken an allied state."
A proposed law that would have increased taxes touched off mass protests that forced the resignation of Prime Minister Hani al-Mulki's government. His designated successor, Omar Al Razzaz, has withdrawn the proposal for review. On Monday, Al Razzaz said the law should be part of a discussion on the overall tax burden, adding that the previous government, in which he was an education minister, didn't take enough time to study the tax bill.
Ryan Bohl, Middle East and North Africa analyst at Stratfor, said Saudi Arabia and the U.A.E. stopped economic aid to Jordan nearly 17 months ago because of Jordan's refusal to fall in line behind Saudi Arabia's regional policies. Officials from Saudi Arabia, U.A.E. and Jordan haven't addressed the aid's halt publicly.
Jordan, whose public debt nearly equals economic output, has been hurt by the rise in global commodity prices. Unemployment is at a two-decade high. The U.S. this year committed to give Jordan more than $6 billion in aid over the next five years, up from $1 billion annually.
Governments in the Gulf and Europe are also likely to support Jordan over several years as it's a key ally and given the large burden it shoulders housing refugees, said Jason Tuvey, a London-based economist at Capital Economics, pointing to the government's fiscal consolidation efforts. They have helped lower its budget deficit to 2.5 percent of economic output last year from an average of 5.5 percent between 2000 and 2014, according to the IMF.
Bilal Khan, a senior economist at Standard Chartered Plc, said a lot would depend on "when and how the funds" are made available. Still, "budgetary support should provide some space for Jordan in implementing revenue-raising measures," he said.