HSBC New CEO Flint's $17 Billion Plan Falls Flat on Investors
(Bloomberg) -- HSBC Holdings Plc Chief Executive Officer John Flint's plan to pour as much as $17 billion into expanding its key Asian markets and improving technology failed to inspire investors.
In his first wide-ranging plan since taking the helm four months ago, Flint said the bank would invest roughly two thirds of that amount by 2020 to build its presence in Hong Kong, China's Pearl River Delta region, and wealth management in Asia. The rest will be spent on technology upgrades while HSBC will just maintain dividends, a letdown for some.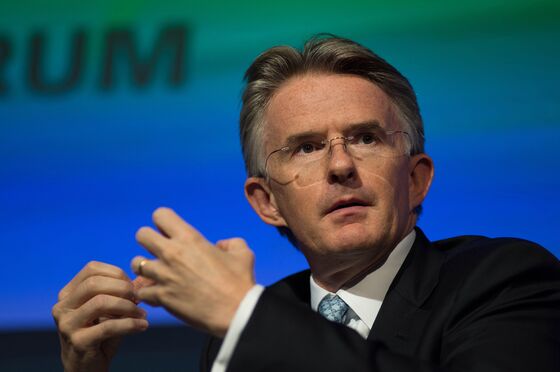 "The firm stance on maintaining dividend per share at current levels is a disappointment to us," Joseph Dickerson, an analyst at Jefferies Group LLC, wrote in a note to clients.
The bank's shares were slightly lower at 726.90 pence at 12:23 p.m. in London.
Flint and Chairman Mark Tucker, who joined in October, are striving to execute a strategy that contains costs while growing revenue at the emerging markets-focused lender. HSBC -- which used to call itself the "world's local bank" -- is now eyeing growth in China asset management and insurance, the firm said.
"After a period of restructuring, it is now time for HSBC to get back into growth mode," Flint said in the statement. "In the next phase of our strategy, we will accelerate growth in areas of strength, in particular in Asia and from our international network."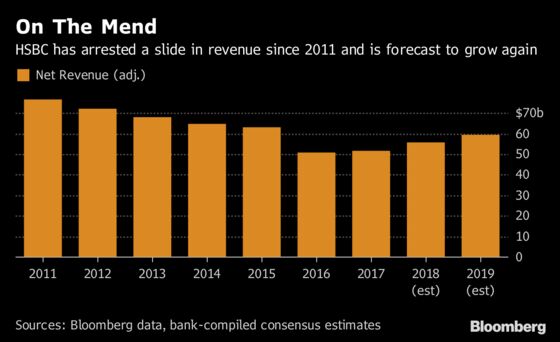 The CEO has also been looking at ways to expand its sub-scale wealth and asset management unit, including a potential merger with a rival, according to people familiar with the discussions earlier this year. However, the HSBC CEO said the bank doesn't want to be distracted by mergers at this stage.
Flint also said Monday that HSBC wants to be a top-tier wealth manager in Asia, driven by China's relaxation of local ownership rules. The Pearl River Delta, the manufacturing hub located just north of Hong Kong, is a key priority area for growth, given the rising middle-class population, he said.
"This is not a revolutionary strategy review," said Jefferies's Dickerson. Rather, it's "accelerating growth, particularly in Asia."
HSBC's Flint said the bank is also targeting a return on tangible equity of more than 11 percent by 2020.
During Stuart Gulliver's prior seven years as CEO, the lender closed almost 100 businesses and reduced the number of countries it operated in to 67 from 88. Even after these efforts, the bank still has 3,900 global offices, 229,000 employees. With $2.5 trillion of assets, it's Europe's largest bank.