Daimler Gets Slapped With Recall, But Avoids Risk of Fines
(Bloomberg) -- With a government order to recall 774,000 vehicles in Europe, Daimler AG stands accused of having used illegal defeat device in its engines, while escaping the crushing cost of fines.
The move follows consultations with the German government in Berlin on June 11, which Daimler Chief Executive Officer Dieter Zetsche called "constructive." Transport Minister Andreas Scheuer for his part didn't mince his words by ordering "an immediate formal recall because of prohibited shutoff devices."
The carmaker will upgrade engine software in Vito vans as well as the GLC sport-utility vehicle and C-Class sedan. The models aren't currently available in the U.S., according to the brand's U.S. site, and the company has repeatedly denied being complicit in the kind of cheating conducted by Volkswagen AG that led to the diesel-engine crisis three years ago.
"We don't see any evidence that Daimler was designing software to deliberately cheat on emission testing," said Arndt Ellinghorst, an analyst with Evercore ISI in London, who estimated the cost to be less than 100 million euros ($118 million). "With this recall, fines are off the table."
Daimler rose 1.6 percent to 62.43 euros at 9:14 a.m. in Frankfurt, paring losses this year to 11.9 percent.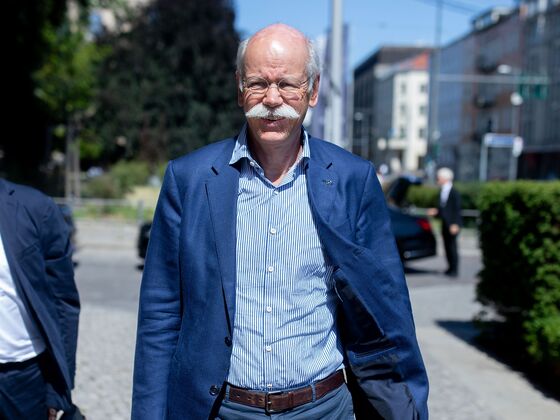 While a setback for a company that's steadfastly claimed a clean-engine record, the software-focused recall means Daimler escaped more costly measures such as fines or a hardware fix. Germany ratcheted up pressure on Daimler in recent weeks, criticizing the company's piecemeal response to concerns about excessive pollution from its diesel vehicles.
Unlike VW, which admitted duping official emissions tests and faces costs of some 26 billion euros in fines, buybacks and recalls globally, Daimler has rejected wrongdoing. As the diesel fallout rumbles on, German prosecutors also on Monday named Rupert Stadler, head of VW's Audi unit, a suspect in the cheating scandal.
Germany's automotive regulator KBA found five unapproved software functions in Daimler's Euro 6 diesel engines, affecting as many as 1 million vehicles in Germany, Bild am Sonntag reported Sunday. This follows the KBA instructing the carmaker in May to recall 4,923 Vito vans worldwide that don't comply with regulations.
Daimler at the time said it would go to court if necessary to overturn the order. The company said Monday it's considering an appeal. The models aren't currently available in the U.S., according to the brand's U.S. site.
Daimler already voluntarily recalled some 3 million vehicles in the EU last year, alongside similar moves by VW and BMW, for software updates to improve emissions performance.
Liberal interpretations of loose European Union rules on car emissions, ultimately resulting in many cities failing EU pollution limits, have led to a number of spats between authorities and carmakers. Daimler relies on diesel vehicles for profit and to lower the carbon-dioxide output of its vehicles to meet environmental regulations.
Scheuer had threatened the Stuttgart-based carmaker with as much as 3.75 billion euros in penalties related to diesel-engine emissions irregularities, Spiegel magazine reported following Zetsche's earlier meeting. For context, during previous standoffs on diesel practices, the ministry failed to make much headway on holding carmakers accountable.
In 2016, Opel, then owned by General Motors Co., didn't end up facing sanctions after then-Transport Minister Alexander Dobrindt raised doubts about the legality of devices used in its engine software. The same year, Fiat Chrysler Automobiles NV snubbed Dobrindt's request for a meeting to discuss emissions.
The country's automotive industry has been under intense scrutiny since Volkswagen revealed in September 2015 it had rigged as many as 11 million diesel-powered cars to cheat on official emissions tests.
Municipalities, battling excessive levels of smog-inducing nitrogen oxide mainly produced by diesel vehicles, have been considering bans. Hamburg made the first move last month with restrictions on two streets.