EU Serves Up Pork With Disco Music to Win Friends in New Poland
(Bloomberg) -- Failing to win Polish hearts and minds even after $200 billion in aid, Eurocrats are now trying sausage and beer served to a disco beat.
The European Union threw a party in Gozdnica, Poland, to mark the 15th anniversary of the referendum where Poles overwhelmingly voted to join the bloc -- a birthday that passed without notice from the government in Warsaw, which considers membership in the 28-nation club a threat to its sovereignty.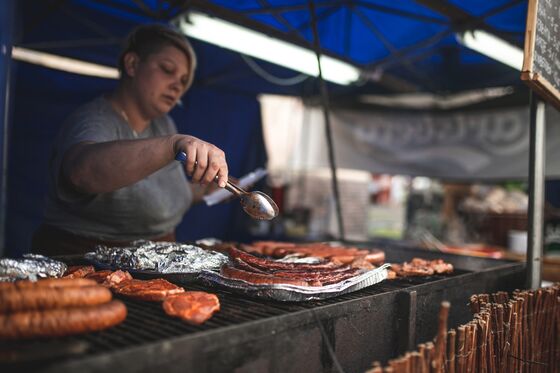 With Poland embroiled in an unprecedented conflict with Brussels over judicial independence, the EU's executive decided to respond by doing something it's not particularly good at -- connecting with ordinary citizens. Dozens of tents were set up on the town's main square, showcasing local music talents, pork products, refurbished rural retreats for tourists as well as new schools and community centers, paid for with help from EU money.
"We've been too modest in showing the success" of life in the EU, Jan Klemt, who chairs the Society of Social Initiatives, a regional civic group, said in Gozdnica. "People here resist euroskeptic propaganda, but remain concerned about Poland's conflict with the EU."
In two-and-a-half years, the ruling Law & Justice party has transformed Poland from a model of east Europe's transition to democracy to one of the EU's biggest headaches. In this new Poland, the government is stoking nationalist fervor and painting Brussels as part of an international elite more concerned with its own welfare than the bloc's citizens.
At the same time, Poland is the biggest net beneficiary of the bloc's budget with a total of 230 billion euros ($271 billion) pledged from its 2004 accession to the end of this decade.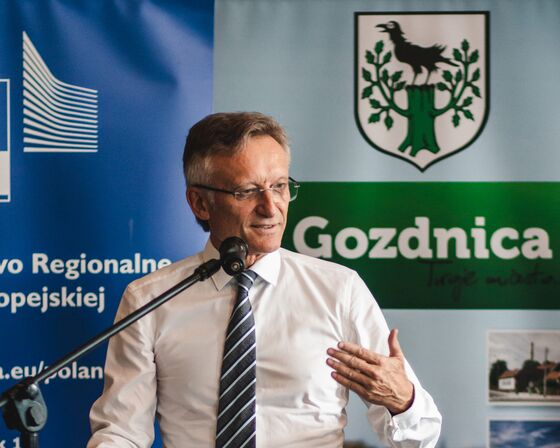 "Two narratives are waging battle in Poland" with the EU cast as either friend or foe, Marek Prawda, the head of European Commission's office in Poland, told Bloomberg at the picnic. "And it's time to remind people that EU membership is a choice of being part of the West, in terms of values and in terms of civilization."
Gozdnica, a town of about 3,000 located a few kilometers from Germany, is famous for having the highest share of "Yes" votes in the EU ballot, at 92 percent. More than 78 percent of Poles wanted to join the EU in 2003 and support for the trade bloc remains around 70 percent.
Still, such popular sentiment may be lost on people following Poland's rule-of-law conflict or listening to Prime Minister Mateusz Morawiecki. In his stump speech, the former chief executive officer at the Polish unit of Banco Santander SA repeatedly accused the EU and its businesses of draining 100 billion zloty ($28 billion) from Poland per year, about four times more than the country receives from Brussels in regional aid and other subsidies.
As an afternoon thunderstorm rumbled toward Gozdnica, mayor Krzysztof Jarosz warned that communities like his would be hard hit if Poland's conflicts reduced EU inflows. The commission's budget proposal envisages a shift of funds to the south following Brexit, with aid to Poland declining by 23 percent in the 2021-2027 fiscal plan.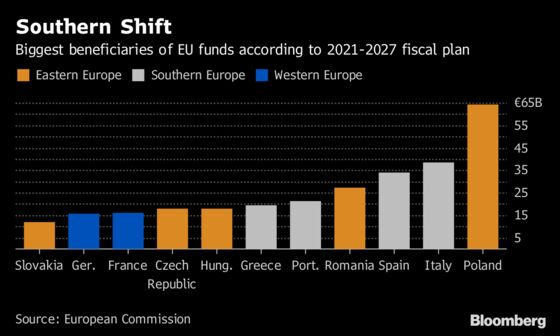 "We still have plenty to do and I'm afraid funds may be cut," he said. Since 2004, the municipality has funded nearly 60 percent of public investments with EU funds, building a water treatment plant, renovating streets with sidewalks as well as refurbishing schools.
With the sky clearing up after the rain, a pop rock group with an accordion player prepared to go on stage, followed by the evening's main attraction, a boy band playing disco hits.