Elliott Urges Thyssenkrupp to Negotiate Better Tata Deal
(Bloomberg) -- Elliott Management Corp. urged Thyssenkrupp AG to negotiate a better steel joint venture with Tata Steel Ltd., increasing pressure on the German company's management to deliver more favorable terms.
In a letter to Thyssenkrupp management, Elliott highlighted the divergence in performance in Tata and Thyssenkrupp's steel businesses. The weakness in Tata's recent performance means that a tie-up is now less favorable for Thyssenkrupp, according to Elliott. If the initial deal terms are maintained, it represents a shift of about 1.9 billion euros ($2.2 billion) less for Thyssenkrupp, the fund said.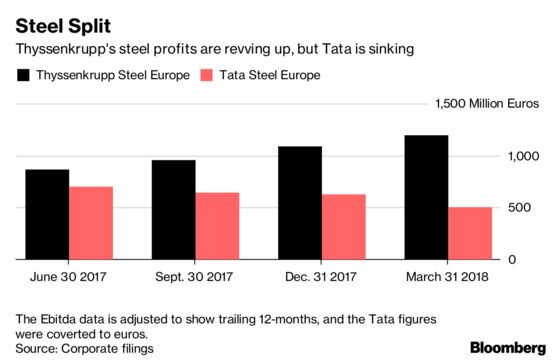 The investor views could make it harder for Thyssenkrupp Chief Executive Officer Heinrich Hiesinger, who has pledged his future on the deal with Tata, to proceed under the current terms. He still needs to convince the company's supervisory board to sign off on the joint venture.
"This significant divergence in relative valuation should be adequately reflected in the final terms of the steel JV," Elliott wrote in the letter, which was previously reported by German newspaper Frankfurter Allgemeine Zeitung.
Cevian Capital, Thyssenkrupp's second-largest shareholder with a 15 percent stake, has a similar view, according to people familiar with the matter. It believes Thyssenkrupp should be compensated with up to 2.5 billion euros if the joint venture comes to fruition, the people said, asking not to be identified because the discussions are private.
Elliott and Cevian declined to comment when contacted by Bloomberg News.
Thyssenkrupp's labor representatives have also voiced concern over the deal, highlighting the drop in profits at Tata's European steel business and rising earnings at Thyssenkrupp's business.
Tata's European labor representatives also said that Thyssenkrupp hadn't given its expert advisers enough information to properly analyze the joint venture and criticized the German firm's "unwillingness" to discuss the matter. The works council said that it remains unconvinced that the partnership with Thyssenkrupp would be in the best interests of the employees.