Elliott Sempra Bid a Warning to Utilities Who Dare to Branch Out
(Bloomberg) -- In targeting California power giant Sempra Energy for a major overhaul, billionaire investor Paul Singer may have just inadvertently delivered a warning shot to all of America's growth-starved electric utilities.
Singer's Elliott Management Corp. and Bluescape Resources Co. said Sempra's share price has underperformed its peers and its "achievable value" in their call for the company to go back to basics. But there are other utilities that have sought profits outside their core businesses and have lagged the the S&P 500 Utilities Index, like Sempra. They include Dominion Energy Inc., PPL Corp. and Black Hills Corp., according to Bloomberg Intelligence.
"The basic utility investor wants stability and a dividend -- plain vanilla," said Kit Konolige, a utility analyst for Bloomberg Intelligence. "It seems to be a trend certainly for investors to take a look at these companies and say, well, if they've underperformed and if they have separate businesses, maybe they'd be better off focusing on the core utility."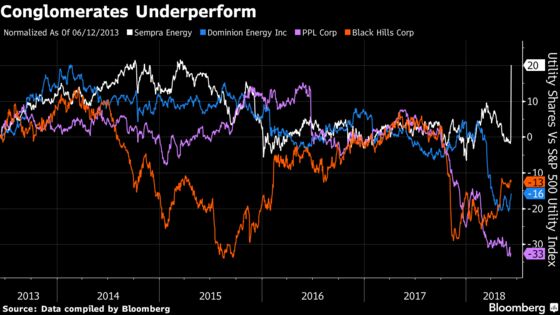 The pressure on Sempra could make it harder for utilities that are starving for growth in the face of weaker power demand to branch out and find a way to increase profits. Earlier this year, Elliott and Bluescape took a stake in FirstEnergy Corp. to push the Akron, Ohio-based utility owner to exit its unregulated power business. Utility owners Duke Energy Corp. and American Electric Power Co. have shed non-regulated businesses in recent years as well.
Elliott and Bluescape called for Sempra to sell Mexican and South American businesses, spin off its U.S. liquefied natural gas unit and name six new directors, and the shares rose the most ever intraday. Last year, Sempra agreed to acquire Oncor Inc. for $9.45 billion, topping an offer from Warren Buffett's Berkshire Hathaway Inc. after Elliott argued Berkshire's bid undervalued the Texas utility.
In 2017, the investors -- which together hold a 4.9 percent interest in Sempra -- went after NRG Energy Inc., which became one of the best-performing stocks on the Standard & Poor's 500 Index in 2017. Monday's letter on Sempra appears to follow a similar blueprint. NRG agreed in February to divest $2.8 billion in assets.
"At the end of the day, we would expect that Elliott Management and Bluescape could have a similar impact that it has had with NRG," Shahriar Pourreza and other analysts at Guggenheim Securities LLC wrote in a research note Monday.
Sempra's U.S. utilities division, consisting of San Diego Gas & Electric, SoCalGas and Oncor, would have a combined value of as much as $30 billion, according to Elliott and Bluescape. The investors said Monday that the company's conglomerate structure holds "no compelling strategic or financial rationale," according to a statement.
Dominion declined to comment. PPL didn't immediately return a request for comment. Black Hills has focused on selling off its non-regulated businesses while investing in its regulated utility businesses, Jerome Nichols, a spokesman, said.
Sempra surged as much as 18 percent in intraday trading Monday, the most on record. The stock closed up 16 percent at $117.19 in New York, the biggest rally in almost two decades. Before Monday, the shares had declined 12 percent in the past year. Elliott and Bluescape said their strategy would raise the share price to between $139 and $158.
"Sempra Energy is committed to an open dialogue with all shareholders," the company said in a statement. "Our board and management will review their letter and presentation in detail and respond in due course."
Elliott and Bluescape are proposing Sempra sell its stakes in IEnova, which develops and operates energy infrastructure in Mexico; Chilquinta Energia SA in Chile; Luz Del Sur SAA in Peru; and the Sempra Renewables division. The units have a combined equity value of $9 billion and $10 billion, according to a presentation Monday.
The investors are also pushing to spin off liquefied natural gas assets to shareholders for a combined value of $8 billion to $9 billion. That includes Sempra LNG & Midstream, Cameron LNG and Port Arthur LNG.
"The market has preferred utilities that have emphasized their regulated operations," said Paul Patterson, an analyst for Glenrock Associates LLC.