Casino Gains as $1.8 Billion Sale Plan Eases Debt Concern
(Bloomberg) -- Casino Guichard-Perrachon SA shares soared after the French retailer announced a plan to divest 1.5 billion euros ($1.8 billion) of assets such as store sites in a bid to cut its debt.
The stock rose as much as 9.6 percent Tuesday in Paris after trading at the lowest level in 21 years Monday. The company has already received "broad interest" in the assets, Chief Financial Officer Antoine Giscard d'Estaing said on a conference call Monday. Some of the real estate on which Casino's Monoprix food-and-clothing shops are located has high potential value that could be unlocked, he said.
"Casino is coming to the end of a long transition period, which has seen the business refocus and improve," wrote David McCarthy, Emmanuelle Vigneron and Andrew Porteous, analysts at HSBC.
The stock erased part of its initial gains, trading at 34.12 euros, up 3.7 percent, as of 11:52 a.m. in Paris. It's prone to a short squeeze, when short sellers rush to buy back the stock to cover their bearish bets, according to Cedric Lecasble, an analyst at Raymond James. Almost a fifth of the company's freely traded shares are shorted.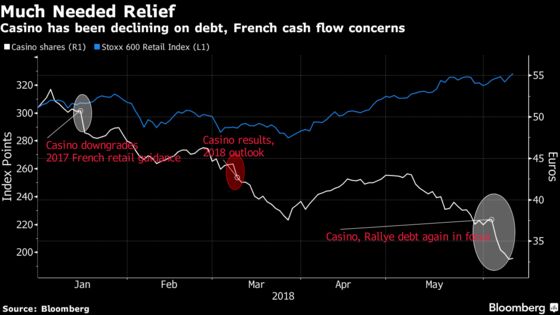 Casino has been in a battle with short seller Carson Block, whose Muddy Waters LLC disclosed a bet against its stock in late 2015. Block has said Casino is using financial engineering to mask a deterioration of its retail business and that its parent company Rallye SA has too much debt. Casino has dismissed those allegations.
Casino's debt also rallied. Credit-default swaps insuring the company's debt against losses fell 54 basis points, the most in more than two years, according to data from CMA. A decline signals improvement in perceptions of credit quality.
In the French market, Casino faces tougher competition from the likes of closely held Leclerc SA and Carrefour SA, which is being revamped under new Chief Executive Officer Alexandre Bompard. Casino has signed partnership deals with Amazon.com Inc. and Ocado Group Plc to boost its digital presence. Carrefour on Monday announced a deal with Alphabet Inc.'s Google to sell groceries online in France.
Carrefour shares rose as much as 2.3 percent.
Casino reported consolidated net debt of 4.1 billion euros in 2017, up from 3.4 billion euros in 2016. Proceeds from the asset disposals and other steps will reduce debt by around 1 billion euros by the end of 2018, the company said.
CEO Jean-Charles Naouri's moves to cut the debt will also ease pressure on parent Rallye SA, Sanford C. Bernstein analyst Bruno Monteyne said in a telephone interview.
"I am less concerned about Casino's and Rallye's debt situation than I was a year ago," he said.
Half of the disposals will be completed in 2018, with the rest taking place early next year, the company said in a statement. Casino said the plan will complement the divestment of Brazilian retailer Via Varejo.
The retailer said it expects comparable sales growth in the second quarter to be higher than in the preceding three months. Casino also affirmed a full-year target of more than 10 percent organic growth in food retail trading profit.