Buffett to Exit Sheetrock Maker USG in $7 Billion Knauf Takeover
(Bloomberg) -- USG Corp. agreed to a $7 billion acquisition by Germany's Knauf KG, a deal championed by Warren Buffett as a way to exit an 18-year investment that suffered through bankruptcy and a bailout.
The Sheetrock maker accepted an offer of $44 a share, which was sweetened from $42 after Buffett's Berkshire Hathaway Inc. threw its weight behind Knauf's bid. The purchase represents a 31 percent premium to USG's stock price in March, when Knauf's overture was revealed publicly, the companies said in a statement Monday.
The deal enables Berkshire to exit what Buffett has called a "disappointing" investment. Closely held Knauf, which already owns about 10 percent of USG, meanwhile gets the opportunity to reap the gains of a recovering U.S. housing market.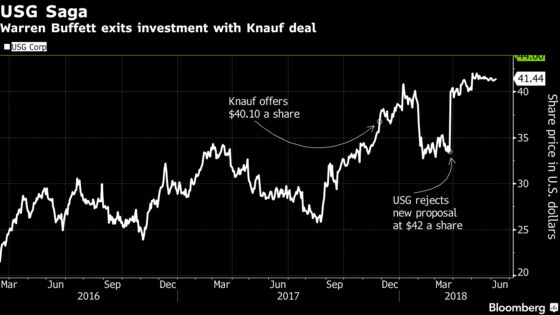 The purchase values Berkshire's 31 percent stake, USG's largest, at $1.91 billion. Knauf is USG's second-largest shareholder. Under the deal, stockholders will receive $43.50 of the offer in cash, plus a special dividend of 50 cents a share. The acquisition is expected to close early next year.
USG rose 3.8 percent to $43 at 10:57 a.m. in New York after climbing as much as 4.2 percent, its sharpest intraday gain since May 1. The stock had climbed 7.5 percent this year through Friday, while the Russell 1000 Materials & Processing Index fell slightly.
USG, the biggest U.S. maker of gypsum wallboard, filed for bankruptcy protection in 2001 under the weight of asbestos litigation settlements. It emerged in 2006 with Berkshire as a backstop investor. Two years later, Buffett bailed out the company with $300 million in funding that converted to shares after the U.S. housing market imploded and credit markets locked up.
Berkshire's stake became so large that it couldn't sell the shares in the open market without pushing down the price, analysts said. Buffett said in an interview last month on CNBC that directors were failing to represent Berkshire's interests.
The acquisition gives Knauf access to the U.S. construction market and ownership of the well-known Sheetrock brand. Founded in 1932 by two brothers who secured the rights to a gypsum deposit, Knauf has become one of the world's largest producers of insulation and drylining systems. The family-controlled company, which also makes industrial flooring and ready-mix plasters, had sales of 6.5 billion euros ($7.7 billion) in 2016 and employs 27,500 people worldwide.
Knauf said it plans to make "significant investments'' in USG, which will keep its Chicago headquarters and continue to be managed in the U.S.
"As a long-term USG shareholder, we greatly admire USG's strong brands, leading market positions in North American wallboard and ceilings and highly talented employee base,'' Alexander Knauf, a general partner of the German company, said in the statement.
Knauf began pursuing USG in November with an offer of $40.10 a share that later was raised to $42. USG had been reluctant to sell, calling Knauf's offers inadequate and opportunistic because the company had just turned the corner on its financial troubles and begun to benefit from the U.S. housing market's revival.
USG reported $3.22 billion in sales last year, up 6.1 percent from 2016. It had about 6,800 employees at the end of 2017.
Berkshire said on April 12 it would vote against USG's board nominees, publicly throwing its support to Knauf and applying more pressure on the U.S. company's management. USG restarted talks with Knauf in May after Shapiro Capital Management, the fifth-largest shareholder, said it would join the shareholder protest by voting against USG's board slate.
During the company's May 9 annual meeting, 77 percent of shareholder votes went against each of the four board nominees. Pressure mounted for USG because Knauf was the only clear potential buyer. If the German suitor walked away, management risked having the shares drop to where it traded before the offers became known.
USG, founded in 1902, boosted its adjusted operating profit to $438 million last year from $91 million in 2012, while slashing debt by more than half to $1.1 billion. Jennifer Scanlon, who became CEO in November 2016, pledged to increase profit margins and push free cash flow to at least $450 million by 2020 -- more than double the level in 2017 -- by automating factories and developing new products.