`Mini 1MDBs' Rife Across Malaysia, Mahathir's Adviser Says
(Bloomberg) -- Malaysia has discovered "many mini 1MDBs" in its campaign to root out corruption in the state, according to a top adviser to Prime Minister Mahathir Mohamad, signaling the wrongdoing unearthed at the debt-ridden fund may be more widespread.
Daim Zainuddin, 80, who was appointed by Mahathir to head up a Council of Eminent Persons to advise the new government on how to meet its campaign pledges, found indications of multiple criminal breaches of trust based on his meetings with dozens of state institutions and government-linked companies. He will submit his findings to the premier.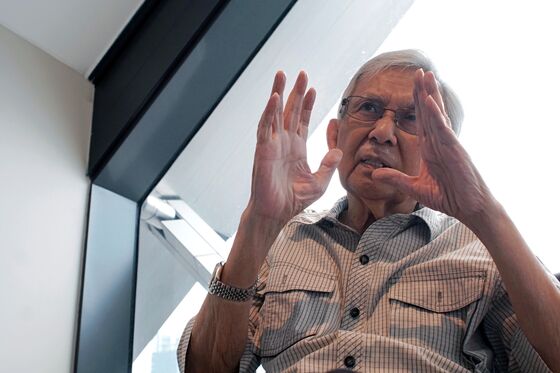 "There are so many mini 1MDBs," he said in a Sunday interview in Kuala Lumpur. "I'm surprised at the loss. I'm still gathering all the total. But it's big. If you add it up, it's big. Very big."
Malaysia has been quick to revive an investigation into 1MDB -- the state-owned investment fund at the heart of a multibillion-dollar corruption scandal -- but authorities are finding the finish line moving farther away as signs point to wrongdoing that's more widespread than previously known.
In the month since Mahathir's surprise election, the authorities have questioned former premier Najib Razak and his wife, seized millions of dollars in cash, handbags and jewelry, and issued arrest warrants for people linked to the troubled state fund. Najib denies any wrongdoing.
Just last week, the government raised new questions over 9.4 billion ringgit ($2.4 billion) of projects involving a unit of China National Petroleum Corp. and Suria Strategic Energy Resources Sdn., a company that Finance Minister Lim Guan Eng has called an "offshoot" of 1MDB.
Suria Strategic's office was raided by the Malaysian Anti-Corruption Commission, and the Ministry of Finance has removed the company's director while placing all its employees on indefinite leave, Lim said in a Monday statement. The ministry will appoint an accounting firm to lead an executive committee that will operate the company and investigate the transactions linked to the energy pipeline projects.
"They don't understand that they are put there in a position of trust," Daim said at his office. "And you have to make sure every single cent you spend is spent properly. There should be no abuse and you must account for every single cent."
Daim has been a long-time confidante of Mahathir and was trusted by the prime minister to help steer the economy through troubled times. A U.K.-trained lawyer, Daim spent much of his early career in real estate and banking.
He was finance minister in 1984 to 1991, then had a second stint from 1999 to 2001 in the aftermath of the Asian financial crisis. Daim helped pull Malaysia out of two of its worst recessions by pouring money into roads, schools and other projects, and pushing banks to lower interest rates.
The council, just like Mahathir, is racing the clock to see the new government fulfill its first 100-day pledges, which include reviving the probe into 1MDB, reviewing large government projects and raising minimum wages. Some of these promises may need to be postponed as Malaysia grapples with debt and liabilities that have exceeded 1 trillion ringgit.
Daim's answer to the country's fiscal problems is to clean up corruption, prevent leakages in state spending and ensure no political appointees in government-linked companies. He is proposing an open tender system for state procurement and informing "political personalities" he'd welcome those who decide to step down.
That signals more resignations to come after directors at state-owned Telekom Malaysia Bhd. and Petroliam Nasional Bhd. quit, following Bank Negara Malaysia Governor Muhammad Ibrahim's departure. Muhammad said he resigned to protect the central bank's reputation after questions were raised about the regulator's purchase of land from Najib's government, and whether the proceeds were used to repay 1MDB debt.
The council also counts billionaire Robert Kuok, former Petroliam Nasional Bhd. president Hassan Marican and economist Jomo Kwame Sundaram among its members, as well as Zeti Akhtar Aziz, who led Bank Negara Malaysia for 16 years.