EDP Says Three Gorges Bid Is Low, Will Seek More Information
(Bloomberg) -- EDP-Energias de Portugal SA's executive board reaffirmed that the 9.1 billion-euro ($10.7 billion) takeover offer from China Three Gorges Corp. is low and said it will seek more information from the bidder about its plans for the Portuguese utility.
"The executive board of directors notes that there are merits in the strategic intentions of the offeror," Lisbon-based EDP said in a statement on the Portuguese securities regulator's website. "Given the uncertainties regarding the implementation of the plan and potential impact on EDP, the executive board will seek more information from the offeror in order to be in a position to form a more considered view regarding the value of the project."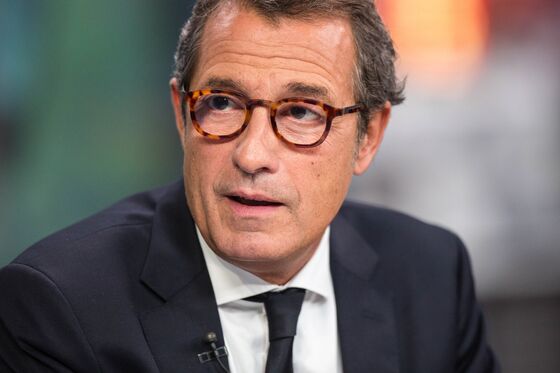 EDP's executive board, led by Chief Executive Officer Antonio Mexia, had already said on May 15 that the implied premium of the takeover offer was "low" and undervalued Portugal's biggest electricity company.
Shares of EDP have traded above the Three Gorges offer price since the bid was announced on the evening of May 11. The Chinese company is offering 3.26 euros a share, 4.8 percent higher than EDP's closing stock price that day. The bidder is already the biggest shareholder in EDP with a 23 percent stake and is now seeking to raise its stake to more than 50 percent, while retaining the former power monopoly's listing in the Lisbon exchange.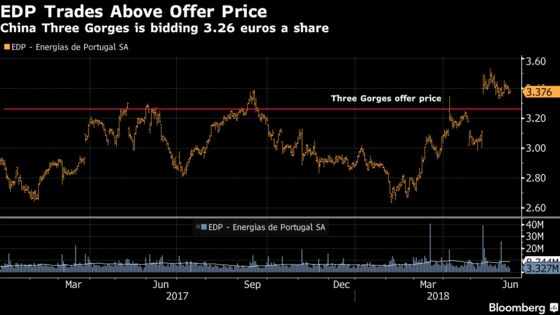 "The executive board cannot recommend that shareholders tender their shares at the current offer price," EDP said in the statement released early on Saturday. "Shareholders that wish to tender their shares need to be appropriately compensated for giving up control of EDP."
A phone call to a media director at China Three Gorges outside of office hours went unanswered.
EDP said its executives noted that Three Gorges wants the Portuguese company to lead its growth in Europe and the Americas, and that its plan includes the possible contribution of certain assets to EDP.
EDP holds 83 percent of renewable-energy unit EDP Renovaveis, which Three Gorges is also bidding for. It's offering 7.33 euros a share, less than that stock's closing price before the announcement on May 11. EDP Renovaveis said in a separate statement that its board recommends that shareholders don't accept that offer price.
The government in Lisbon has indicated it's comfortable with the Chinese bid for EDP. Before details of the offer were made public on the evening of May 11, Portuguese Prime Minister Antonio Costa said he "had no objection" to a possible Three Gorges bid for the power company.
For Three Gorges, which spent two decades building a hydropower plant spanning China's Yangtze River, the deal would bolster its efforts to expand abroad and give it deeper access to markets in Europe, Brazil and the U.S. EDP is one of Europe's leading developers of renewable energy, building mainly wind farms and hydro plants, and has expanded in markets including Brazil and the U.S. It has installed capacity of 26.8 gigawatts, including 5 gigawatts of wind energy farms in the U.S.
The deal would add to a wave of investments China has made overseas, both to earn a yield on its cash and to gain expertise in industries ranging from energy to telecommunications and transport. Concern about those deals has been mounting in the U.S. European Union governments have been divided in their response, with Portugal among those most supportive of inward investment.
The bid is subject to several regulatory approvals, including from the Committee on Foreign Investment in the U.S. Three Gorges said in the offer announcement on May 11 that it doesn't rule out accepting some "mitigation measures'' from that regulator.
The Portuguese government in December 2011 agreed to sell a 21 percent stake in EDP to Three Gorges for 2.69 billion euros. That privatization and the sale of a stake in energy grid operator REN-Redes Energeticas Nacionais SA to another Chinese company were carried out as part of a bailout program provided by the European Union and International Monetary Fund.