Utility Chiefs See RWE-EON Type Asset Swaps Gaining Traction
(Bloomberg) -- The asset swap announced this March by RWE AG and EON SE, that separates power generation from grids and retail, will probably be replicated elsewhere in Europe.
As the traditional utility model with companies owning big plants, networks and units selling power has been upended by the renewable energy revolution, more streamlined companies are likely to emerge, according to the head of Finnish utility Fortum Oyj. The most senior executive at Statkraft AS in Norway, who sees limited synergies between plants and networks, agrees.
Fortum set the ball rolling years ago by spinning off its Nordic grid companies to focus on power generation in northern Europe and Russia. Angela Merkel's focus on wind and solar has fundamentally shifted the German utility landscape, and the 22 billion-euro ($26 billion) deal will cement RWE's position as Germany's biggest power producer and hand EON millions of new customers from Southeast Europe to the U.K.
"The trend to seek size and specialize will probably grow," Fortum's Chief Executive Officer Pekka Lundmark said this week in an interview at the Eurelectric conference in Ljubljana, Slovenia. "It's a step we already took in separating our distribution business."
So far, about a third of Europe's utilities may think along the lines of Statkraft, said CEO Christian Rynning-Toennesen. That leaves many more which may also bet on scale, he said. It's logical to split the activities and "that's the camp we're in." His company focuses almost exclusively on generation.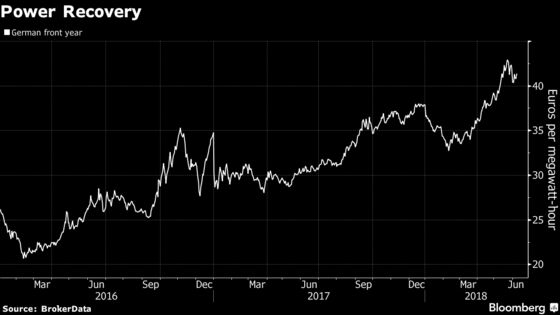 As wholesale power prices have almost doubled since a low in February 2016, some of Europe's biggest utilities have increased their focus on generation. After spinning off their renewable units, Enel SpA, Electricite de France SA and Iberdrola SA have all reintegrated companies generating power from mainly wind and solar in the past few years.
Vattenfall AB is however one exception that's not going down the specialist route. In the aftermath of the financial crisis, the Stockholm utility got burnt in its biggest and most unprofitable deal ever as it expanded in the Netherlands. As energy prices plunged, the company was forced to write down the value of its its Dutch and German assets by billions of euros.
The company's motto now is "not to put all one's eggs in one basket," Chief Executive Officer Magnus Hall said at an interview at the same event in Ljubljana. Splitting generation and distribution "means making a bet that we don't want to make as a company," he said. "We think we benefit from the whole value chain."
And the outcome of a big merger or acquisition is never certain -- something Fortum's Lundmark would agree with.
After the company sold its Nordic distribution assets, investors and analysts increasingly wanted the cash pile running into billions of euros to be used for investments. A deal was eventually struck with EON last year to by its 47 percent stake in Uniper SE, but Fortum has run up against stiff opposition from the Uniper management in its bid to win control of the German conventional power company. For now, it has to settle with the minority stake.
Germany's exit from nuclear in 2022 and an uncertain future for coal created "acute pressures" on RWE and EON to undertake the swap that maybe aren't as intense in other other countries right now, said Guido Hoymann, head of equities research at B. Metzler Seel Sohn & Co. in Frankfurt.
"But the underlying trend beyond Germany is there," he said.