Terry Gou's FII Soars in China Debut After $4.3 Billion IPO
(Bloomberg) -- Foxconn Industrial Internet Co. soared in its Shanghai debut, a thumbs-up for billionaire Terry Gou's ambitions of nurturing a smart-factory division to help his company emerge from under Apple Inc.'s wing.
The stock rose by the maximum 44 percent to 19.83 yuan, conferring a market value of more than 390 billion yuan ($61 billion) on FII. The company, which raised 27.1 billion yuan in mainland China's largest initial public offering since 2015, is now the most valuable tech company listed in Shanghai or Shenzhen, pipping previous title-holder Hangzhou Hikvision Digital Technology Co.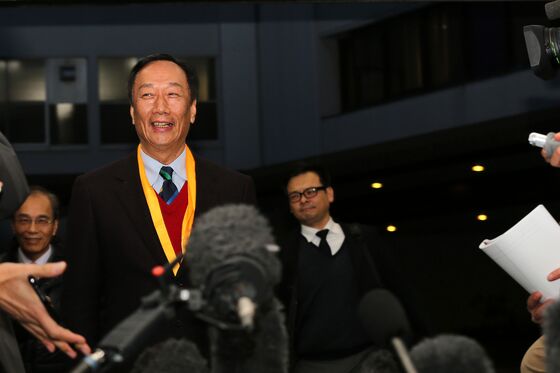 The Hon Hai Precision Industry Co. unit's coming-out party was one of the most anticipated of 2018, drawing demand for 290 times the shares for sale and attracting powerhouse investors from Alibaba Group Holding Ltd. to Tencent Holdings Ltd. FII is now tasked with leading a drive into the "smart" manufacturing of higher-margin widgets from servers to Internet of Things devices. While Foxconn has ridden Apple's ascendancy for a decade as its most important production partner, the unit today embodies Gou's aspiration of moving beyond cranking out iPhones as the smartphone boom winds down.
FII drew a strong reception in part because its IPO was priced at about 17 times earnings, a discount of as much as 43 percent to its peers in Shanghai, said James Wei, a Hong Kong-based analyst with Yuanta Securities Investment Consulting.
"Chinese investors trust Terry Gou as a manager," he said. "A lot of other companies listed in Shanghai are riskier than FII."
Still, investors had voiced caution ahead of Friday's debut. While the three-year-old business has generated an unusual amount of hype for what's essentially a factory writ large, Hon Hai's past efforts to shift from electronics assembly toward more lucrative opportunities have proven uneven. While it makes sense for Gou to reduce Foxconn's reliance on Cupertino for more than half its revenue, previous attempts have borne little fruit.
Foxconn's exposure to a shrinking smartphone market, has helped wipe more than $18 billion off the Taiwanese company's market value since a June 2017 peak.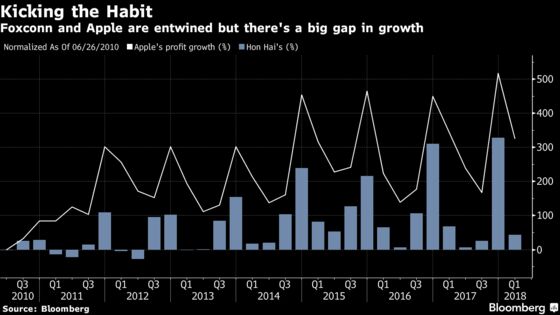 Foxconn remains one of the best at assembling electronics cheaply and quickly. Its client roster encompasses many of the most recognizable names from Amazon.com Inc. to HP Inc. FII's own prospectus revealed net margins more than 50 percent higher than its parent's. The division makes servers and storage for cloud services, precision tools and industrial robots, including the turquoise-colored "Foxbot" arms it deploys across its factories.
While it furthers Gou's goal of whittling down Apple's outsized footprint, FII has its own challenges. The company is expecting net income to rise just 0.9 percent to 5.1 percent in the January to June period, after growth of 4.5 percent in the first quarter and more than 10 percent across 2017. Margins in electronics in general are getting stretched, particularly as smartphone demand tapers off.
It's not just FII: rivals such as Quanta Computer Inc. are also maneuvering to grab a bigger slice of an AI and cloud computing boom that's driving demand for servers and devices.