Tax Cut Pledge Blunts Ontario Deficit Worry After Election
(Bloomberg) -- The flow of red ink will likely continue in Ontario, but one of the world's biggest sub-national borrowers will at least begin to address its competitiveness issues, economists said after a new government swept to power in Canada's most-populous province.
Doug Ford's Progressive Conservative party won 76 of Ontario's 124 districts in Thursday's election, ending 15 years of Liberal Party rule, and giving it a decisive majority in which to push through new policies. The left-leaning New Democratic Party, which won 40 seats, becomes the official opposition.
"Suffice it to say that, from a credit perspective, none of the election platforms were giving investors the warm fuzzies," Robert Kavcic, senior economist at BMO Capital Markets, wrote in a research note Friday. That said, "the initial sense is likely that the PC victory is the 'least bad' credit outcome."
Ford ran on a platform of tax cuts for businesses and the middle class and a pledge to reduce government "waste." His platform was in sharp contrast to the Liberals, who had grown deeply unpopular amid rising electricity prices and debt-fueled public spending that pushed the province's credit rating down to A+, the lowest it's ever been. The NDP had also pledged a boost to spending on social programs.
Ontario is rated Aa2 at Moody's Investors Service, A+ at Standard & Poor's and AA- at Fitch Ratings, with the first rating company having a negative outlook on the province's debt, while the other are two stable. In its report from March, Moody's assessed the province's planned return to deficits as credit negative.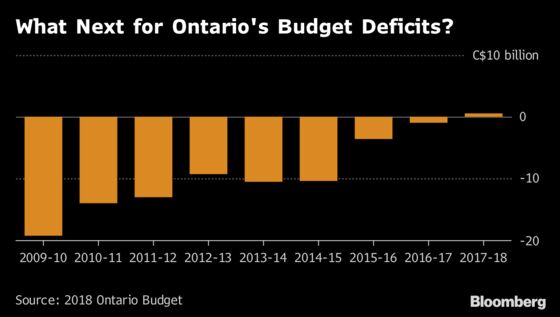 Ontario's debt more than doubled to above C$300 billion ($232 billion) under the Liberals, pushing it to 37 percent of gross domestic product up from about 27 percent when they took power in 2003.
"If we can just slow down the spending, we can get to a point of normalcy," said Brendan Caldwell, chief executive officer of Toronto-based Caldwell Investment Management Ltd., adding that investors shouldn't expect Ontario's debt problem to be solved immediately.
"We took 15 years to get into this mess, don't expect it to be solved in a single year," he said. "All I think we can hope for is our economy grows to catch up to our debt. No more pet projects, no more spending, no more anything until we've had a chance to breathe, catch up and allow our economy to grow to the point where it can absorb the debt we've already taken on, which is considerable."
Ford has promised to balance the budget in "a reasonable timeframe," although the party didn't release a fully costed election plan. Kavcic estimates the deficit will likely track into the C$5 billion to C$6 billion range by fiscal 2020-21. That was in line with Liberal plans.
Uncertainty about the deficit will persist until the new government tables its first budget, but "the mandate sets up a clear tack away from higher taxes and big program spending, to tax relief, leaner government and competitiveness, and could be a first indication that Canadians' appetite for deficit spending has peaked," Kavcic wrote.
Ford has promised to cut the corporate tax rate to 10.5 percent from 11.5 percent, reduce personal taxes for middle-income earners by 20 percent along with cuts to gasoline and diesel taxes. Ford also pledged to scrap the province's cap-and-trade program to reduce greenhouse-gas emissions, setting up a showdown with Liberal Prime Minister Justin Trudeau, who has vowed to ensure every Canadian province adopts some form of carbon tax.
"A pro-business, tax cut-wielding provincial government may be just what Ontario needs to bolster relative competitiveness and extend the life of its economic expansion," Warren Lovely, managing director and head of public sector strategy at National Bank Financial, said in a note. "Credit rating agencies have begun to express renewed concern over Ontario's structural deficit, elevated debt burden and reduced budgetary flexibility, pressures that could take some time to redress."
The Canadian dollar rose 0.2 percent to C$1.2952 per U.S. dollar at 11:36 a.m. in Toronto, reducing its loss this quarter to 0.4 percent, the best performance among 16 major currencies tracked by Bloomberg.
Ontario bonds have lagged the rest of the market this year, with a 0.9 percent decline against the market's 0.5 percent loss, according to a Bank of America/Merrill Lynch index. The spread on the province's 10-year benchmark was at 67 basis points over similar-maturity federal government bonds, according to Bloomberg data, compared to a spread of 73.5 basis points at which the bonds were first offered on April 4.