Takeaway Seeks Growth for Food-Delivery Market Consolidation
(Bloomberg) -- The way Jitse Groen sees it, it's survival of the biggest in the food-delivery marketplace.
The 40-year-old founder and chief executive officer of the Dutch company Takeaway.com NV says consolidation is inevitable in his industry, with large markets like Germany able to sustain just one player and only a handful of food-delivery services left standing globally. With a scenario like that size will matter.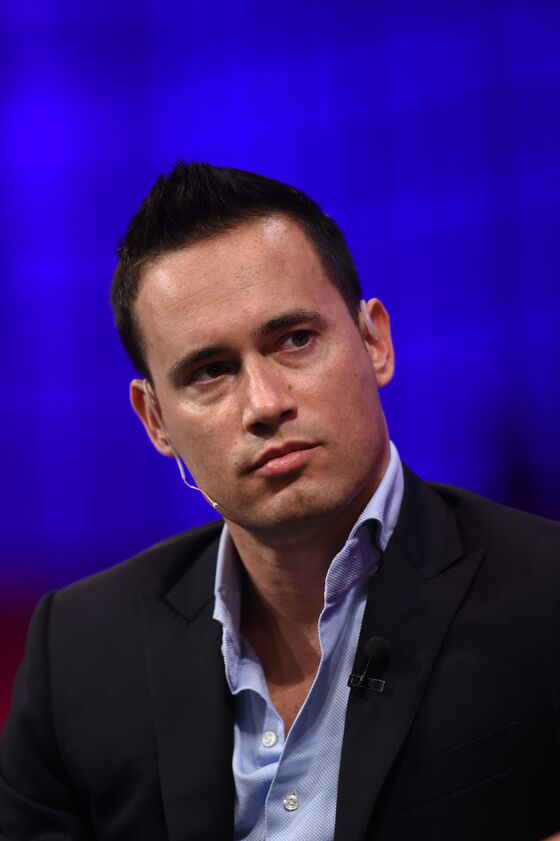 "I believe the most value is in being the largest, by far," he said in an interview at the company's headquarters in Amsterdam. "A number of companies will emerge, and the valuation of those companies will ultimately be based on profits."
Groen wouldn't say when exactly he sees that consolidation happening, but for now, the industry's focus rests "heavily" on growth, which is also important to the now 18-year-old company, he said. For Takeaway, that means steep investments in its core markets: the Netherlands and Germany. The Dutch investments are profitable, he said, and there is no reason to believe this couldn't happen in Germany as well, although not overnight.
"We're marathon runners," he said, adding that he has "all the patience in the world" for the consolidation in his business.
The company, which Groen started in 2000 as a student in the Dutch city of Enschede, is a market leader in the Netherlands, he said. Groen also claims the top spot for orders in Germany with its Lieferando.de business battling it out with rival Delivery Hero AG in Europe's largest economy. Shares of Takeaway, which joined the list of Amsterdam-listed midcaps in March, rose as much as 1.6 percent in early trading on Friday. Shares are stable this year and have have more than doubled since the company went public in September 2016.
In January, the Dutch executive was quoted as telling Germany's Tagesspiegel that a merger with the Berlin-based Foodora-owner would be an option. In the Bloomberg News interview, Groen said a local merger in Germany could be a good idea, adding, however, that Delivery Hero "had a blast of an IPO," giving them no reason to sell their German business.
Delivery Hero is open to possible takeovers when they "make sense," its chief executive Niklas Oestberg said at the NOAH technology conference in Berlin on Thursday, adding that there's no pressure to act on this now as he's happy with how things are going in Germany.
Germany, where Takeaway estimates it has an addressable market of more than 70 million people, is crucial for the company's success. In 2017, the company spent 38 percent more on marketing in the country compared to 2016, seeking to boost its piece of the pie and reach a profit. Its share of 16-years-and-above population in the last 12 months in Germany stood at about 8 percent. In the Netherlands, it has an about 25 percent share.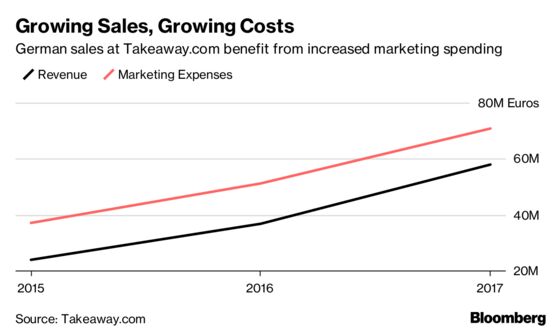 Takeaway, which says it holds a top three position in every European country it operates in, has gotten there because its business model focuses on a single IT platform. It has one back-end for its websites and app, operating across all its markets. It collects a commission for connecting eaters and food suppliers -- a model not unlike that of Just Eat Plc.
That set-up contrasts with competitors such as Uber Technologies Inc.'s UberEats and London-based Roofoods Ltd' Deliveroo as these companies deliver food using an army of couriers. To be sure, Takeaway's Scoober service -- which operates in 29 cities from Amsterdam to Warsaw -- does that too, even as Groen admitted that the business is "terribly loss-making" and that "no one will ever make money with it."
Still, starting Scoober was a "good decision" as that's what "our customers want." While delivering food directly will never become a core business for Takeaway, the company will likely expand that business to a few more cities, he said.
In the end, Groen said the U.S., the U.K. and the Netherlands are the only countries where marketplaces such as Takeaway's are currently making "lots of money" -- this number could grow to a total of about 15 markets globally, including Germany, Turkey, Brazil and South Korea.
As for pure logistics players -- the courier services -- they will disappear, Groen said. "The only parties that can stick this out in the long run are the marketplaces."