BT CEO Patterson Ousted Amid Investor Backlash Over New Strategy
(Bloomberg) -- BT Group Plc abruptly pushed out Chief Executive Officer Gavin Patterson after the board and investors lost faith in his turnaround plan for the former phone monopoly.
Patterson will step down later this year when a successor is in place, likely in the second half, BT said in a statement Friday. The board has started a search for his replacement, the company said. The stock rose as much as 3 percent in London and was trading 1.3 percent higher at 1:06 p.m.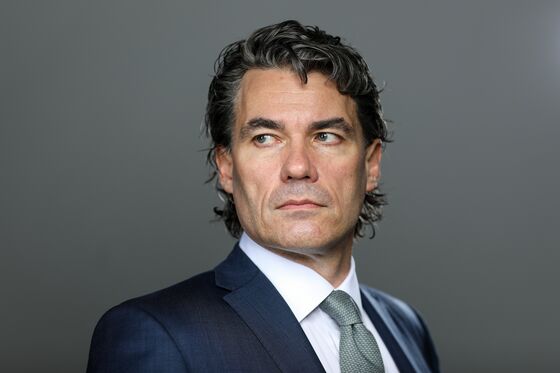 The departure marks an about-face by a board now bowing to shareholder pressure for fresh blood at the top. Patterson has been seeking to reboot BT since a profit warning early last year and told investors in May that it will take until 2021 for a return to profit growth, as the company launches into a reorganization including thousands of job cuts.
"The fact that Gavin Patterson was under immense pressure from shareholders is no secret," said Dhananjay Mirchandani, an analyst at Bernstein in London, in a note. "The timing of this announcement, however, is highly puzzling and worrying," so soon after announcing a transformation plan.
Chairman Jan du Plessis, who had backed Patterson at last month's strategy update, on Friday said shareholders had convinced him the executive's time was up, even as the board is still "fully supportive" of the business plan. "The broader reaction to our recent results announcement has though demonstrated to Gavin and me that there is a need for a change of leadership to deliver this strategy," du Plessis said.
Deutsche Telekom AG, BT's largest shareholder with a 12 percent stake, has grown increasingly dissatisfied with Patterson's performance over the past year, partly because of blunders like an accounting scandal in Italy, according to a person familiar with the situation. The German carrier is hoping for a replacement with a proven track record of turning around companies and who is able to tackle shifts affecting the industry, the person said.
Tim Hoettges, Deutsche Telekom's CEO, has been on the board of BT since January 2016, when the Bonn-based carrier gained a position in the U.K. company through BT's purchase of mobile operator EE.
Among possible candidates to replace Patterson is Severn Trent Plc CEO Liv Garfield, who previously ran Openreach, said James Ratzer, an analyst at New Street research, by phone. Internal prospects could include Marc Allera, head of BT's consumer business, and CFO Simon Lowth, Ratzer said.
The May 10 strategy update, alongside annual results, was meant to give investors comfort that Patterson had a cost-savings plan. But the reorganization that was announced, including 13,000 job cuts and the sale of real estate, failed to impress as investors focused on a bleak financial outlook.
The company forecast a flat dividend and 2 percent revenue decline next fiscal year -- which BT blamed on wholesale price cuts mandated by regulators -- along with earnings and free cash flow declines, as it boosts spending on fiber broadband.
The share plunge that day, the most in 15 months, contributed to a 25 percent decline since the start of 2018 before Friday's trading, giving the carrier a market value of 20.1 billion pounds ($27 billion).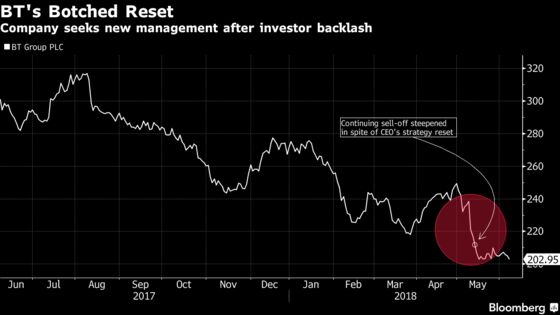 Patterson's tenure has been uncertain since the start of last year, when the carrier disclosed deeper writedowns from accounting errors in Italy and a cut to its profit outlook over a weak order book at its IT services divisions.
His troubles were compounded by a tumultuous relationship with politicians and regulators, who have pushed for improved service standards and a wide full-fiber broadband rollout from the company's Openreach network division. The discord culminated in March 2017, when communications regulator Ofcom forced BT to legally separate the grid and imposed price cuts on some of its broadband services, seen by analysts as a way to pressure BT to spend on fiber.
"He went into battle with Ofcom and lost, so the market was always skeptical on his ability to manage that process going forwards," said Guy Peddy, an analyst at Macquarie in London, by phone. "Politics and regulation is a bit of a game and a new person is in a better position than Gavin was because they're not encumbered by a loss -- they're not one-nil down."
Patterson's exit means two of the U.K.'s largest telecom companies are switching up their top executive ranks at the same time. Vodafone Group Plc CEO Vittorio Colao will be replaced later this year after a decade in his role by CFO Nick Read, the company announced last month.