Apple Shares, Suppliers Fall After IPhone Order Cut Report
(Bloomberg) -- Apple Inc. shares and suppliers declined after a Japanese newspaper report that the technology giant has warned suppliers of a drop of around 20 percent in new iPhone component orders.
Nikkei said Apple told the suppliers that the parts were for iPhones debuting in the second half and would be down from 2017 levels. The newspaper cited people in the industry it didn't identify.
Apple's sprawling supply chain comprises thousands of companies, and the iPhone maker sometimes changes which suppliers it uses for a variety of reasons -- from cost to a given firm's ability to produce enough of a component. As a result, it can be difficult to glean an overall picture of demand from speaking to individual firms. Apple Chief Executive Officer Tim Cook has also warned investors against picking up cues from disparate data points.
"We believe the bark is worse than the bite as we saw last quarter with erroneous reads out of the Asia supply chain," GBH Insights analyst Daniel Ives said. "We believe the upgrade opportunity is massive for Apple over the next 6 to 9 months and we view this report as noise."
Apple fell 1.7 percent at 9:42 a.m. in New York Friday. Austrian supplier AMS AG dropped as much as 7.2 percent and in the U.S. Cirrus Logic Inc. fell 3.5 percent, Skyworks Solutions Inc. fell 2.6 percent and Qorvo Inc. fell 1.2 percent after the Nikkei report.
Cupertino, California-based Apple is planning to release three new phones this fall, including a model with some of the flagship iPhone X's features but a lower price tag, and the largest iPhone ever.
Read more on Apple's strategy of growth beyond iPhones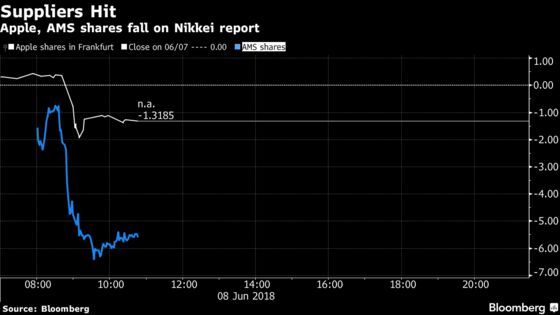 Apple's shares were up about 14 percent so far this year through the close of trading Thursday, while European suppliers have had mixed fortunes. Dialog Semiconductor Plc is down 42 percent in 2018 after Apple, its biggest customer, decided to scale back orders.