Wall Street and Capitol Hill Fret Over Idea of `Chairman Maxine'
(Bloomberg) -- Blaine Luetkemeyer, a Republican member of the House Financial Services Committee, recently issued a warning to a group of Wall Street lawyers and lobbyists in Washington.
"We do not want a Maxine Waters chairmanship," the Missouri lawmaker told the group gathered for a luncheon hosted by the Exchequer Club. "That's the death knell to many of you."
That may be a stretch, and Luetkemeyer himself has said he's angling for the top job on the committee if Republicans keep control of the House. But if they don't, there's no denying the committee's focus would change under the leadership of Waters, who was named one of Time magazine's most influential people last year.
The 13-term California Democrat, who's currently the committee's ranking member, supports stiffer rules on big banks and will likely try to use her subpoena power to dig up dirt on firms she's long chastised, like Wells Fargo & Co. and Deutsche Bank AG. She'd also be a thorn in the side of President Donald Trump, who she's repeatedly said should be removed from office.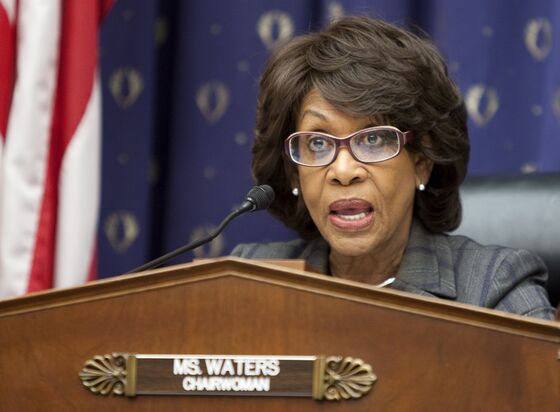 "It would be a 24-7 impeachment hearing," said Bill Huizenga, a Michigan Republican on the committee who's also put himself in the running for the chairmanship. "Being in the minority sucks."
As primary season heats up, Republicans fearful of a so-called blue wave are using Waters to raise money from financial institutions that would feel her wrath should her party wrest control of the chamber.
Banks' anxiety over Waters runs deep, and Wall Street allies have been giving money to Democrats who might soften her impact. The American Bankers Association, for example, recently launched an ad campaign for Montana Senator Jon Tester, a moderate Democrat, rewarding a lawmaker who supported the overhaul of Dodd-Frank financial regulation.
At the same time, progressives such as Senator Elizabeth Warren are licking their chops about the prospect of Waters in charge. Democrats on the committee could expose ways they believe Trump appointees are dismantling financial rules and putting consumers at risk.
"I am focused on making sure that our financial system is fair," Waters said in an email. Among her priorities are affordable housing, "making sure that the safeguards are in place to prevent another financial crisis, protecting consumers and investors from bad actors and conducting appropriate oversight of the administration."
When asked about the future leadership of the committee, retiring Chairman Jeb Hensarling, a Texas Republican, wouldn't even speak Waters' name.
"I know who it should not be," Hensarling said. "It should not be that nice lady who sits next to me on the committee whose name starts with a 'W."'
That hasn't stopped Waters from receiving campaign cash from the finance industry. But it's a trickle compared with a deluge for her Republican colleagues.
In 2015-2016, Waters received $33,500 from the securities and investment industry, according to opensecrets.org. In this cycle, as of the end of March, the industry has already given Waters $40,492, with the general election still five months away, opensecrets.org said.
Compass Point Research & Trading gives Democrats a 70 percent chance of taking control of the House of Representatives, but it's far from a done deal. Democrats hold 193 seats to the Republicans' 235 (there are seven vacancies). So the Democrats will have to flip at least 23 districts to become the majority party. A CBS News poll released Sunday showed the contest for control of the House neck-and-neck, with Democrats having a slight edge. The nonpartisan Cook Political Report lists 29 Republican seats and three Democratic as "toss-ups."
Waters, 79, has generated a cult following for standing up to the finance industry and its GOP allies. A video went viral last year after she continued to interrupt Treasury Secretary Steve Mnuchin during one of his appearances before Congress. Over and over again, Waters said she was "reclaiming my time," so Republicans couldn't move on from her questioning.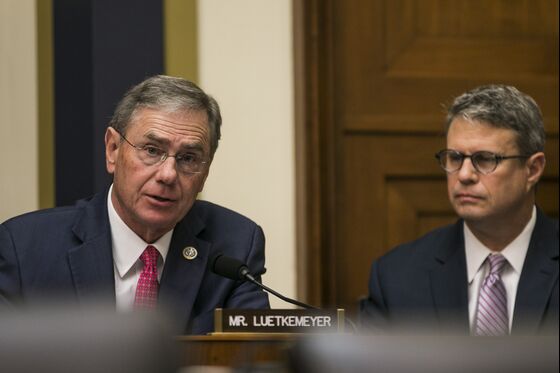 Waters said she believes in hearing a range of views on issues before the committee.
"I have always maintained an open-door policy, to hear the priorities and concerns of all stakeholders, including representatives of the financial-services industry," Waters said in the email.
According to people familiar with Waters's thinking, she'd push legislation she introduced last year that would allow regulators to break up banks with a history of consumer abuse. Her favorite target is Wells Fargo, whose employees created 3.5 million fake accounts without clients' knowledge.
Even if Waters takes over the committee, achieving her legislative goals will be difficult. Most bills need 60 votes to pass the Senate, and Democrats aren't expected to control anywhere near that many seats. Still, she could prove to be a headache for the industry.
"If you're a big bank, you're in for a rough ride," said Cam Fine, a lobbyist who retired last month as president of the Independent Community Bankers Association. "Good luck to the JPMorgans and Wells Fargos of the world."
Deutsche Bank would be another focus. Over the past year, she's pushed for an investigation into the German bank's ties to Trump, who borrowed more than $300 million in real estate loans years before running for office.
Waters would be the first African American to run the financial services committee, and also the first woman.
Waters herself has faced a pay-to-play scandal. In 2012, the House Ethics Committee investigated whether she violated rules when she set up a meeting during the financial crisis with the Treasury Department and executives from a bank her husband owned shares in. The committee ruled that she hadn't violated any ethics rules.
Waters shares the wealth. In 2016, she brought in more money for the Democratic Congressional Campaign Committee than any other ranking committee member, according to Issue One, which tracks campaign finance.
So far, she's raised $764,086 for this year's election, outpacing her fundraising totals in the last election, according to opensecrets.org.
Selecting committee chairs is a tricky process that won't happen until after the Nov. 6 elections. A lot can change in the meantime. While Waters is the top Democratic candidate, she might consider a leadership position. In that case, other senior Democrats on the committee, such as Carolyn Maloney and Nydia Velazquez, both of New York, might be in line.
For now, Waters has to be considered the frontrunner.
"She'll hold great power accountable," says Marcy Kaptur, an Ohio Democrat and the longest-serving woman in Congress. "Maxine will be a strong voice for prudent banking and protect people from risky schemes and abuse."