U.S. Military Doesn't See Role Stemming Venezuelan Refugee Flow
(Bloomberg) -- The top Pentagon commander for Latin America and the Caribbean said he sees no role for the U.S. military in providing direct humanitarian assistance to countries being inundated with Venezuelans fleeing a collapsing economy under President Nicolas Maduro.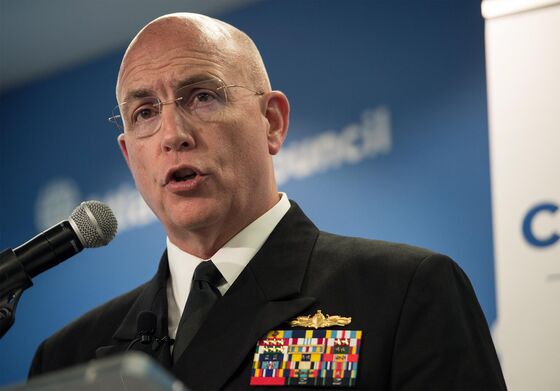 "There really is not," Admiral Kurt Tidd, the head of U.S. Southern Command, told Bloomberg News on Thursday after a breakfast meeting with reporters in Washington. "Our role is to listen to" and "partner with" the neighboring countries "to understand what their challenges are and how they are dealing" with the crisis.
Disaster response exercises Southcom regularly conducts with regional allies "all play a contributory role to help them build their capacity to deal with any kind of humanitarian crisis" but ultimately the Venezuela situation "is going to require a diplomatic solution" Tidd added.
Until then, the flow of refugees will likely continue, Tidd said. "Desperate people will continue to leave to try and make money in other places that they can send back" home.
Venezuelans have fled their homeland to escape crushing hyperinflation, a shrinking economy and a shortage of basic goods and food. Maduro, who succeeded his political mentor Hugo Chavez in 2013, has frequently blamed the U.S. for sparking the economic crisis and raises the specter of a U.S.-backed coup in public pronouncements. Maduro won election to another six-year term last month in a vote that was widely criticized and boycotted by the opposition.
The U.S. has seen "probably at least a million Venezuelans" crossing the border to Colombia, Tidd said at the breakfast. "We've seen tens of thousands in Peru. We've seen tens of thousands down in Brazil and it's having an enormous impact on those countries's ability to care for them."
The flow is even disrupting the implementation by Colombia's government of a peace accord with the Revolutionary Armed Forces of Colombia after a five-decade conflict, Tidd said.
"A lot of resources" were "going to go into reintegration of former members" of the group, known as FARC, he said. "But unfortunately, an awful lot of resources have had to go into taking care of Venezuelans who have fled the economic devastation."