Trump-Like Populist Dangling Tax Cuts Favored in Ontario Vote
(Bloomberg) -- Ontario is voting for a new government Thursday after a tight election that offers two starkly different choices for Canada's most populous province.
Opinion polls show the Progressive Conservatives, led by an irreverent populist promising tax cuts, likely to win against the left-leaning New Democratic Party, which is pushing higher social spending funded by tax increases. The incumbent Liberals, who have been in power since 2003, are staring at a historic defeat.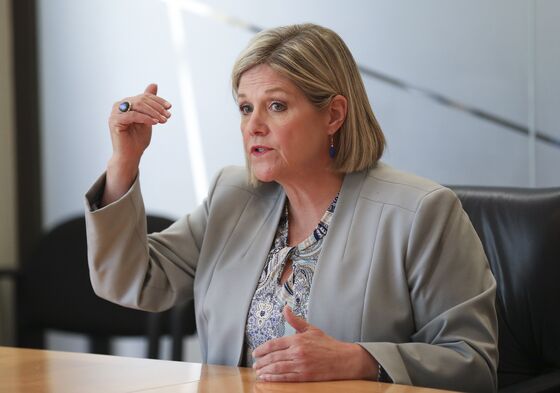 The decision between the NDP's Andrea Horwath and PC leader Doug Ford -- comparisons to Donald Trump included -- boils down to whether the province accelerates its tilt left after 15 years of increasingly progressive Liberal rule, or makes an about-face toward a smaller pro-business government and the spending cuts that may bring. Polls across the province will close at 9 p.m. Toronto time.
"What's clear is that the middle has dropped out of Ontario politics, and we're moving toward a more ideological politics," said Darrell Bricker, a Toronto-based pollster at Ipsos Global Public Affairs.
The NDP, which began the campaign in third place, has had the momentum. They've been statistically tied with the Conservatives in most polls taken over the past three weeks, and even led with 37 percent versus 33 percent in a poll last week by Abacus Data.
The left-leaning party also has a larger pool of potential voters. About 64 percent of voters would consider voting NDP, compared with 49 percent for the PCs, according to the Abacus poll, and the party has more support among women, particularly younger ones.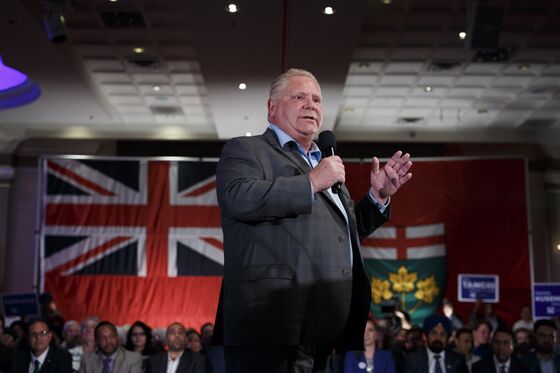 Horwath, 55, a former legal-aid counselor, is well liked -- just 20 percent of respondents have a negative view of her, versus 48 percent for Ford and 56 percent for the Liberal's Kathleen Wynne. Ford, 53, ran his family's label business, was a city councilor and the brother of late Toronto Mayor Rob Ford who became notorious for his cocaine use.
Despite that, Ford has one big advantage: voter distribution. A polling aggregation run by the Canadian Broadcasting Corp. projects the PCs to have, on balance, a small lead in popular vote but a big lead in winnable districts known as seats. The province's legislature has 124 seats, and the PCs have an 87 percent chance of winning a majority, the CBC projected as of Wednesday.
One thing is certain, the desire for a new government is acute. That's despite the province's economy -- which is about the size of Switzerland -- doing quite well, with the unemployment rate at the lowest since 2000. The best the Liberals can hope for is for no one to win a majority, giving Wynne's party scope to be kingmaker for the next government.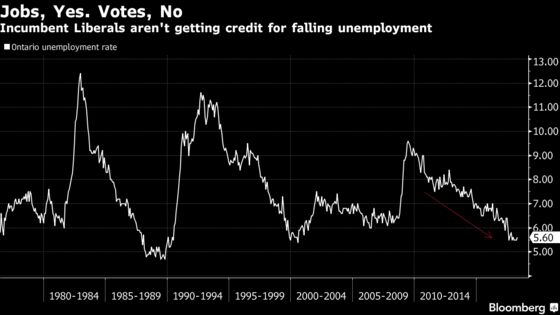 Wynne, who has already said she doesn't expect to win the election, had advanced a largely left-leaning agenda in recent budgets: a cap-and-trade system on carbon emissions, steep minimum wage hikes, and expanded pharmaceutical coverage for some drugs. Her party's policies have also dramatically increased the price of electricity for consumers and business. The cocktail of cost-boosting measures have become a major burden to industry.
And then there's Ontario's debt, which has more than doubled to above C$300 billion ($232 billion) under the Liberals and is among the world's highest for a sub-national government. The last Liberal budget projected another C$33 billion over the next six years at a time when the province's economy is already running at above its capacity.
"I think Ontario has got two problems: an overextended balance sheet and the second relates to an uncompetitive tax machine," said David Rosenberg, chief economist and strategist at Gluskin Sheff & Associates Inc., citing a provincial corporate tax rate of 11.5 percent and a top marginal income tax rate of 20.5 percent, on top of federal income taxes. "I think we shouldn't be close to running deficits with the tax machine we have right now."
That tax burden will only get higher for companies such as Toronto-Dominion Bank and Shopify Inc. if the NDP wins. Horwath's party is pledging to increase the corporate tax rate to 13 percent from 11.5 percent, pushing the combined rate including federal taxes to 28 percent. It also want to raise the top marginal income tax rate by two percentage points, helping to finance a host of social measures that would add C$15.8 billion in annual program spending after five years. Still, the tax increases theoretically mean the NDP will actually run smaller deficits than those forecast by the Liberals.
What Ontario's fiscal outlook will look like under Ford is still a mystery. The Conservatives are promising to balance the budget over a "responsible time-frame" even as they pledge to cut personal and corporate taxes, lower hydro rates and increase spending on health care and infrastructure. The PCs say much of this will be financed by cutting government waste, but the campaign has not released a costed plan or a fiscal outlook.
The vote's outcome will inevitably depend on turnout. If Liberal support collapses, the NDP should see a surge -- Abacus found that 79 percent of Liberal supporters would prefer an NDP win to a PC win. The problem for the NDP, polling suggests, is that its supporters are less committed than PC backers to actually showing up to vote.
"It will be all about turnout," Bricker said. "There is definitely a path for the NDP to win a majority but turnout will need to be higher."