Japan Power Free-for-All Spurs New Jobs at Old-School Utilities
(Bloomberg) -- For decades, Japan's electricity market was dominated by a few big companies that didn't need a lot of workers to trade power or hedge risk. Now, old-school utilities may be poised for a hiring spree in what has become a $130 billion free-for-all involving dozens of new buyers and sellers.
Tohoku Electric Power Co., the country's fourth-biggest regional utility, poached traders from commodity houses and banks to staff a power and fuel unit that opened in April. Tokyo Electric Power Co. and Kansai Electric Power Co., the biggest suppliers, may beef up their trading teams, while Marubeni Power Retail Corp. and new entrant F-Power also are mulling additions.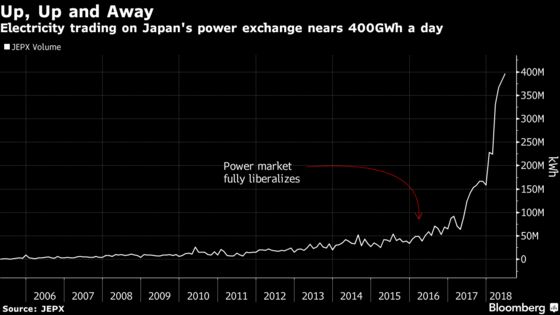 The rush for trading talent reflects a major change in Japan's electricity industry. Government reforms in 2016 allowed new suppliers to compete with utilities for household customers, sparking a surge in activity on its once sleepy exchange for spot power. Volume could shift into even higher gear when futures contracts are introduced later this year.
"There is a likelihood that hiring will increase over the next year or two" as suppliers add traders as well as jobs related to limiting the increased price risk, said Mitsutoshi Watanabe, senior manager at the Energy & Infrastructure Division at JAC Recruitment in Tokyo.
Transactions have skyrocketed over the past year on the Japan Electric Power Exchange, a public market for spot deliveries. The government hopes the exchange will become a meaningful measure of supply and demand. About 10 percent of domestic electricity is purchased through the exchange, up from just 1.5 percent before the reforms. The number of participants on JEPX has jumped 30 percent since 2015 to 138.
Due largely to increased activity from the nine main regional utilities, day-ahead contracts delivered on JEPX passed 400 gigawatt hours for the first time on May 14. That's up from less than 100 gigawatts a year earlier and is nine times the average in 2015.
For analysis of scramble for retail electricity customers, click here.
While utilities were quick to jump into the spot market at the request of the government, new entrants have been more cautious recently because it is more difficult for companies with little or no generating capacity to hedge the risk of losses from volatile prices.
That probably will change once futures contracts begin trading in September on the Tokyo Commodity Exchange Inc. Unlike a spot market -- where buyers and sellers trade actual electricity -- futures involve transactions based on the value of the energy, but often without physical deliveries. The contracts can be used by the energy industry to limit risk or by investors and speculators to bet on the price of power, which expands liquidity.
With a futures contract on the way, hiring more people for trading and market analysis may be necessary for new entrants in the electricity-supply business, according to Erex Co., one of the new companies vying for customers in competition with utilities. Erex would buy more on the spot market if it had access to a viable futures market, the company said in an emailed statement.
To be sure, Tocom has delayed its planned roll-out of the new contract a few times. Earlier this month, a regulatory panel questioned whether the exchange would be able to create a viable futures market by itself and urged a possible tie-up with an overseas bourse.
Still, the expectation is that trading on the spot market will jump once futures arrive, according to F-Power, which may add outside staff for its trading team in the current fiscal year. Marubeni said it will consider whether to hire workers after futures start. Osaka Gas Co., which has branched out into electricity supply, says it only gets about 2 percent of its power from the exchange, but still could expand employment in the future.
At Tohoku Electric, the Sendai-based utility in northern Japan, the company created a 14-person unit in April that trades spot electricity on JEPX, with a third of the people hired from outside the company. Tohoku will use futures once they are listed, said Kaoru Hijikata, the chief executive officer of the trading unit.
"It will be increasingly difficult to ignore market prices in our business" because the market will keep growing, Hijikata said in an interview. "If market prices become 50 percent lower than ours, people will start questioning whether we can survive."
Tokyo Electric said it will eventually hire power traders as the market expands, though it didn't specify a time-line, while Kansai Electric and Hokuriku Electric Power Co. are setting up units later this year to strengthen their power trading. Hokkaido Electric Power Co. hired Yasutaka Yamanami, who previously handled commodity derivatives at Mitsui & Co., as a power trader in April.
To be sure, some companies say they aren't interested in adding staff. SoftBank Group Corp., a Japanese conglomerate that also is offering retail power supplies, said it will use artificial intelligence to boost the efficiency of its trading room rather than hire more people. Chubu Electric Power Co., the nation's third-largest regional utility, said it has no plans to increase staff in power trading.
Seven other regional utilities declined to comment on the exact number of employees they plan to hire and transfer to their trading departments. Some said the details are still being worked out or because the company considered disclosing the information would impact competition. One utility didn't respond to questions.
"There is no doubt that liquidity on the electricity market will rise further," Tohoku Electric's Hijikata said. "As trading volume will grow and prices there could be cheaper, the market will have much more influence."