Here's a Good Reason to End Quarterly Guidance: It Doesn't Work
(Bloomberg) -- Warren Buffett and Jamie Dimon want companies to stop giving quarterly earnings forecasts and focus on the long term. Even investors seeking short-term gains might want to heed their point of view.
You'd think that providing a forecast every three months would make a company's results more predictable. But since 2016, S&P 500 Index members that provide quarterly outlooks ended up reporting more surprises -- or a wider gap between earnings and estimates -- than the index as a whole. The group of companies that gave guidance only got closer to the consensus in two of the nine calendar quarters.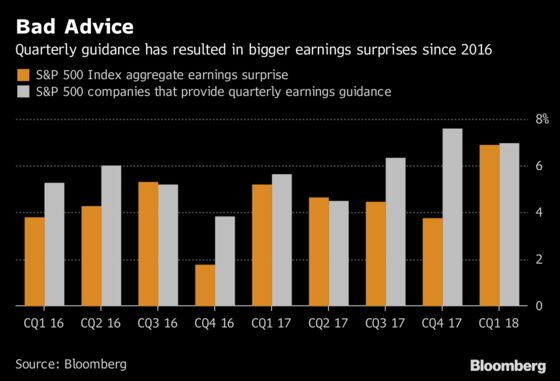 "Quarterly results are a piece of the investment mosaic, but we find little value in quarterly guidance for active managers performing their own research," said Christopher Hillary, chief executive officer and portfolio manager at Denver-based Roubaix Capital, the $112 million hedge fund firm that focuses on small-cap stocks. "Long-term goals are a more useful tool in evaluating a business, as well as a means of holding the management and board accountable."
Perhaps companies that provide quarterly reports are still generating surprises because analysts haven't placed enough trust in the guidance. Or maybe the real reason for guidance is to obfuscate and depress earnings expectations.
Quarterly forecasts are falling out of vogue, with less than a third of S&P 500 companies now offering them. Walmart Inc. stopped just this year, saying executives wanted to focus on their long-term view. But many large companies, including Intel Corp., Target Corp. and Carnival Corp., continue to provide them, and some investors prefer to have more information rather than less.
"It's in the interests of both management and shareholders to have it," said Christoph Eibl, co-founder of Tiberius Group, a commodities-focused hedge fund and trading firm based in Zug, Switzerland. "It gives transparency to the market."