France Said to Warn Trump That It Will Not Sign a G-7 Statement
(Bloomberg) -- France has joined Germany in warning President Donald Trump that it won't sign a joint statement of the Group of 7 at the summit in Quebec this week without major concessions from the U.S., a French official in the president's office said.
President Emmanuel Macron has signaled that progress on tariffs, Iran nuclear agreement and Paris climate accord must be made before he'll be willing to sign a joint statement, the official told reporters Wednesday in Ottawa. The French president spent the day meeting with Prime Minister Justin Trudeau and other Canadian officials ahead of the June 8-9 summit in La Malbaie, Quebec.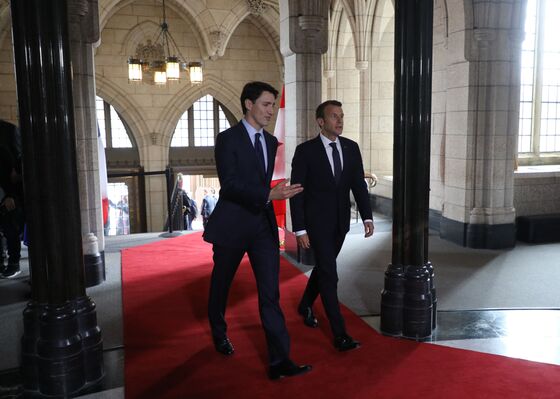 The official requested anonymity in keeping with rules of the French president's office.
Macron has concluded that the other members of the G7 -- the U.K., Germany, Japan, France, Italy and Canada -- must stand up to the U.S. over Trump's decision to impose tariffs on steel and aluminum from the European Union, Canada and Mexico as well as other issues.
Macron's stance emerged as world leaders converged upon Canada for the summit and echo German Chancellor Angela Merkel's vow to challenge Trump on trade and climate change at the summit. She also said the lack of room for compromise meant leaders might not agree on the traditional final statement.
The French leader's open challenge to Trump is a far cry from the "very special friendship" he sought to promote during his visit to Washington in late April. At that point, Macron said he believed he could persuade the U.S. remain in the Iran accord and forgo any tariffs against the European Union. At last year's G-7 summit in Sicily, Macron said he could talk the U.S. out of withdrawing from the climate accord.
While Trump's top economic adviser, Larry Kudlow, called trade tensions shadowing the summit "a family quarrel," finance ministers from the six other nations issued a rare public rebuke during a preliminary meeting last week, saying they would retaliate against the American tariffs.
And Trudeau, the summit's host, said Sunday that the tariffs were "insulting" to the longstanding alliance between the U.S. and Canada.
Trump is to attend the summit Friday and Saturday before flying to Singapore for a historic meeting with North Korean leader Kim Jong Un on June 12.
The official said that France wants any joint statement to state that trade should be open, fair and free among members of the G-7 and beyond, and that any attempt to jeopardize the global trade system would constitute a threat. All members would also pledge to respect rules, and seek a reform of the World Trade Organization.
The statement, the official added, would accept no language about Iran not respecting the terms of the nuclear accord or any condemnation of the agreement.