Cybersecurity Firm Crowned New Top Tech IPO Performer for 2018
(Bloomberg) -- Zscaler Inc. became the best-performing U.S. technology IPO of the year Thursday, after it announced revenue growth that analysts noted was "well ahead" of estimates.
The stock jumped as much as 38 percent in trading this morning, bringing performance since its initial public offering in March to about 164 percent. Today's rally made it the best performing tech IPO in the U.S. this year, topping the previous leader, HUYA Inc., a Chinese live-stream platform. This year's U.S. tech and communications IPOs have returned 56% on average, according to data weighted by offering size and compiled by Bloomberg as of Wednesday.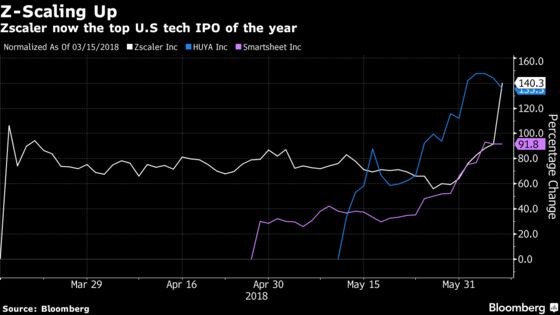 The technology security company easily scaled Wall Street's expectations in its first earnings report as a public company. It posted $49.2 million in revenue in the third quarter, beating even the most bullish analyst estimates. The San Jose, California-based firm also cited "strong" billings growth, which rose 73 percent.
"Zscaler is a unique company positioned to disrupt a major sector and in the early stages of its emergence," Needham analyst Alex Henderson wrote in a note. Henderson rates the company a strong buy, with a price target of $40 a share. "We think this is going to be a major company over time," he added.
After the earnings report, analysts brightened their outlook. The average price target for Zscaler rose to $32 from $29 a week ago, Bloomberg data show. Still, some analysts cautioned against unbridled enthusiasm.
Morgan Stanley analyst Melissa Franchi wrote in a note that next quarter has a high bar to meet, as the company had several large deals in the same quarter last year. With shares already trading at an elevated level, "we're awaiting a more attractive entry point," Franchi wrote, rating the stock the equivalent of a hold.
Even the most bullish on the Street may have been surprised. Shares blew through even the highest price targets earlier today as shares rose to new records. The stock has pared some gains to trade 29 percent higher on the day at $39.58 as of 12:04 p.m. in New York.